FORBIDDEN – "OMEGA WAVE"
NUCLEAR BLAST (2010)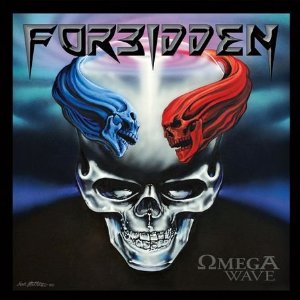 I have always hated Grunge music with a passion. Why? Apart from the fact that it provided numerous uneducated and incompetent 'musicians' with a platform and urged them to voice their 'anxieties', it practically killed off Thrash Metal in both sides of the pond. Granted, many bands would have disappeared from the face of the earth anyway, as that is the way of things, however there were intelligent and hardworking outfits such as the California-based quintet Forbidden who were not given a choice other than to split up when their 1997 opus "Green" was met with relative indifference by the music press. Well, after many speculations and false starts, Russ Anderson (vocals) and the boys managed to ink a deal with Nuclear Blast and have unleashed onto the world album number five, entitled "Omega Wave".
The US Thrash Metal scene has given birth to many impressive bands, but it is only really a handful of them whose skill and vision could compete with that of Forbidden. Well, it looks like thirteen years of hiatus were not enough to change either their habits or their approach to song writing. "Omega Wave" contains twelve varied compositions of immense quality, which portray Forbidden as a band which, though respecting its past, faces the future with renewed faith and motivation. Rather than playing it safe and coming up with another "Twisted Into Form", these lads twisted their creative juices and delivered a fresh and modern sounding album that owes as much to their legendary debut "Forbidden Evil" for inspiration, as it does to releases of a more experimental nature, such as "Distortion" or "Green".
When you have been away from the music scene for as long as Forbidden, you need to make sure that you come back with a bang. The lads have achieved that by introducing us to this album through an up-tempo & classic-sounding Thrash belter called "Forsaken At The Gates" – a song that lives and breathes all things Thrash. The choice of presenting the mid tempo, low-chorded opus "Overthrow" straight after is of strategic importance as it conveys the message that Forbidden, anno 2010, are as much a classic, as they are a modern band. If you love head banging riffs and shredding riffs then "Adapt Or Die" will easily become your favourite song, whereas those who enjoy dark atmospheric interludes with a touch of Nevermore will rather opt for the six and a half minute masterpiece "Swine".
Following a short and much needed break, provided by the instrumental "Chatter", the listener will hear another Thrash Metal belter, one that features a truly addictive refrain – "Dragging My Casket". Much as I believe that this album features many classics, I have to admit that it is the commanding drumming and heavy mid tempo riffs of "Hopenosis", together with its irresistibly melodic chorus/refrain, which really stole my heart and to which I would grand the title 'best song' of the album. More dynamic drumming and crunchy riffs can be found in "Immortal Wounds", whereas "Behind The Mask" provides us with a few moments of epic brilliance. Do you love chord-driven music in the vein of Opeth and Nevermore? If the answer to that question is yes, then do check out "Inhuman Race" – if not, then let the slow and heavy riffs of the same-titled "Omega Wave" embrace your spirit and provide you with a beautiful ending to this amazing album!
2010 has been a really good year for Metal music as there have been numerous good quality releases that have managed to find their way into my record collection and help dramatically to shrink my bank account! Though I could name many of them, the one that stands out in my mind as the best effort, is undoubtedly "Omega Way"! Forbidden really took their time with their fifth studio album, but what they ensured was that they would come up with a fresh, exciting and technically unsurpassable effort. Is Thrash Metal all about passion or intelligence? Forbidden proved here that both are equally important! A truly magnificent album that deserves to become a classic!
John Stefanis
Rating: ***** (5.0/5.0)
The latest Facebook Live session from Canadian singer-songwriter Josh Taerk Sunday 21 February, 16:00 EST, 21:00 GMT
More about Josh: http://getreadytorock.me.uk/blog/?s=%22Josh+Taerk%22
---
David Randall presents a weekly show on Get Ready to ROCK! Radio, Sundays at 22:00 BST (GMT+1, repeated on Mondays and Fridays), when he invites listeners to 'Assume The Position'. This show was first broadcast on 14 February 2021 and includes the Top 10 albums at www.getreadytorock.com for that week.
UK Blues Broadcaster of the Year (2020) Pete Feenstra presents his weekly Rock & Blues Show on Tuesday at 19:00 ( BST, GMT+1) as part of a five hour blues rock marathon "Tuesday is Bluesday at GRTR!". The show is repeated on Wednesdays at 22:00, Fridays at 20:00). This show was first broadcast 9 February 2021.
---
Listen in to Get Ready to ROCK! Radio…
Click the appropriate icons at the top of the page.


Featured Albums w/c 22 February 2021 (Mon-Fri)

09:00-12:00 RADAR Lost In The Atlantic (Escape Music)
12:00-13:00 DURBIN The Beast Awakens (Frontiers)
14:00-16:00 ANNEKE VAN GIERSBERGEN – The Darkest Days Are The Brightest (InsideOut Music)

Power Plays w/c 22 February 2021 (Mon-Fri)

ALESTI Voices
DEAD REYNOLDS Bright Lights

ALLY VENABLE Road To Nowhere
JASON SWEENEY She's A Fighter
RAINBREAKERS Ashes
---
Tweets by Get Ready to ROCK!
---