CROWBAR -"SEVER THE WICKED HAND"
CENTURY MEDIA (2011)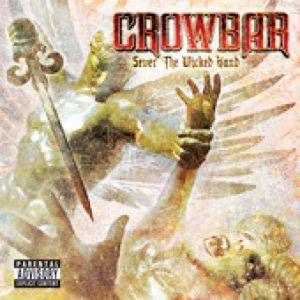 "What? Are you serious? You've got to be joking, man!". These were the exact words that came out of David, one of my best friend's, after I blatantly informed him that I have never listened to any of the albums thus far released by the US Sludge Metal legends Crowbar. To my defence there are so many bands out there that you are bound to miss out a couple, however influential, and most importantly, in the early 90s when the New Orleans outfit started making its very first steps in the music world, my attention and focus were still firmly placed on Thrash Metal. In a way it is much better that Crowbar have only now managed to fall to my attention as it is only the last five or six years that I built the right musical 'foundations' that would enable me to appreciate the music of an outfit that owes as much to Punk and Hardcore in terms of its sound and musical inspiration as it does to Doom Metal.
"Sever The Wicked Hand" is Crowbar's ninth full length album and comes out a good six years after the release of "Lifesblood For The Downtrodden" – an album that was dedicated to the memory of Pantera's legendary axeman Dimebag Darrell, so expectations ought to be running high amongst the band's loyal fans. For me, things were much easier as the above-mentioned lack of knowledge enabled me to simply focus on the material on the album without allowing any biases or prior expectations to influence my judgement. The first thing that really attracted me to this band was the clarity of the sound and the heaviness of the guitars and, having digested that, I started to gradually appreciate the ease with which Kirk Windstein's outfit incorporates various different elements in this very interesting musical stew that is known as Crowbar. It really didn't take long before I realised how addicted I was to this simply, but also quite cleverly, crafted music and now I am quite tempted to drop everything and begin listening intently to the twelve compositions on offer.
Every album under the sun aims for immediate impact through its opening track, something that was certainly achieved by "Isolation (Desperation)" – a groovy riffed mid tempo opus whose multi layered vocal refrain is not only a total head-banger but also one of the absolute highlights of the album! The same-titled "Sever The Wicked Hand" is an up-tempo, more Punk/Hardcore orientated gem which creates an interesting contrast with the much slower "Liquid Sky And Cold Black Earth" – a six and a half minute heavy monster with melodic & epic sounding riffs sharing many things with those created by the mighty Solitude Aeturnus. From this point onwards, the listener is introduced to a series of impressive compositions, such as the heavy Doom "Let Me Mourn", the galloping up-tempo masterpiece "The Cemetery Angels" and the mid-tempo head banging riffed "As I become One" while the atmospheric instrumental "A Farewell To Misery" will provide a much welcome break. Whereas "Protectors Of The Shrine" bring more Solitude Aeturnus influences to the surface, "I Only Deal In Truth" operates in a more classic Black Sabbath environment, leaving the trio "Echo An Eternity", "Cleanse Me, Heal Me" and "Symbiosis" to provide a very impressive ending to this highly enjoyable album.
My friend David and I share a mutual love for Metal music, but we don't always agree on things, so I treated his initial reaction with some scepticism. Having listened to "Sever The Wicked Hand" non-stop for the last five days I can sympathise with his reaction! This album ticks all the right boxes; it is both heavy and emotional, it combines simplicity with sheer musicianship and, most importantly, features some of the catchiest choruses and refrains that Sludge Metal has to offer nowadays. I really envy the old school fans of this band – not so much because they have had the privilege of listening to Crowbar's music for the last ten years, but mainly because of the fact that while they simply have to save money for the purchase of this one album, I have to do the same for nine!
John Stefanis
Rating: **** (4.0/5.0)

---
Listen in to Get Ready to ROCK! Radio…
Click the appropriate icons at the top of the page.

In this show, first broadcast on Get Ready to ROCK! Radio on 2 February 2020, David Randall plays a selection of tracks from some of the artists who impressed at this year's Giants Of Rock event in Minehead (24-27 January).


Featured Albums w/c 17 February (Mon-Fri)

09:00-12:00 NEWMAN Ignition (AOR Heaven)
12:00-13:00 BLACK SWAN Shake The World (Frontiers)
14:00-16:00 CORMAC O CAOIMH Swim Crawl Walk Run (indie)

Power Plays w/c 17 February (Mon-Fri)

SHAKRA Turn The Light On (AFM Records)
THE NIGHT FLIGHT ORCHESTRA Transmissions (Nuclear Blast)
RYDERS CREED Lost Soul (Off Yer Rocka Recordings)
FRAMING HANLEY Puzzle Pieces (Thermal Entertainment LLC)
ROBERT HART Mysterious (Escape Music)
---
Tweets by Get Ready to ROCK!
---