EKTOMORF – "REDEMPTION"
AFM RECORDS (2010)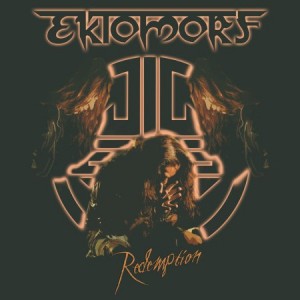 Eight years ago, my good friend and fellow journalist Mr. Ritchie asked me to prepare a review for "Destroy" – the fifth studio effort of the Hungarian Thrash/Hardcore Metal outfit Ektomorf. I was really not aware of this band prior to receiving the promo of that twelve track release, so a quick search on different music media revealed a variety of reactions towards Zoltan Farkas' (guitars/vocals) outfit, with some people hailing them as the new best thing while others condemning them as a Soulfly/late Sepultura clone. The years have indeed passed and the fact that Ektomorf are still around recording music is a clear indication that they are still offering something to the music world. One question that certainly needs to be answered while listening to the band's latest full length "Redemption" is whether any major changes have been made over these last eight years and, most importantly, whether this twelve track release is an album worth investing in.
The answer to both of these questions is a clear 'yes' – once which requires, however, some analysis. Looking at the band's past releases one discovers that this noisy quartet loves to produce simply riffed, short compositions and, in that respect, nothing has really changed as the average duration of each song in "Redemption" is between three and three and a half minutes! Those who condemned Ektomorf as a Soulfly/Sepultura clone in the past will find quite a few 'excuses' to do the same this time round, however even they will be able to detect some attempt, on the part of the band, for expanding and further pushing musical boundaries.
That attempt is expressed through the addition of clean vocal narrations, harmonic/atmospheric guitar intros and passages and even groovy riffs capable of attracting the attention of a more varied audience. On a more negative note, this album comes across as less coherent when compared to 21009's "What Doesn't Kill Me…" as the 'gap' between average and impressive compositions has widened significantly, resulting in a slightly less favourable evaluation on my part.
The album kicks off with the four minute "Last Fight" – a heavy mid tempo song whose low chorded riffs and commanding sing-along chorus have earned it the title of an album highlight. "Redemption" moves at a slower pace and as a result comes across as slightly less dynamic and paves the way to the amazing "I'm In Hate" – a breathtaking song whose harmonic intro, combined with Zoltan's heavy low-chorded riffs is proof that this band has matured a lot throughout the years and is capable of breaking free from the 'clone' title that was attributed to it such a long time ago. Moving on from what I consider to be the best song of the album, one is confronted by the Thrashy Soulfly-influenced "God Will Hunt You Down", the mid-tempo drum orientated "Stay Away" and the quite confident "Never Should" before the appearance of the surprisingly successful Alice-In-Chains-sounding intro and groovy riffs of "Sea Of Misery". The band's attempt to attract some commercial attention by adding Dank Jones' contribution on "The One" was not very successful in my opinion; however things sound more promising in the tribal-esque "Revolution" and the more riff-orientated "Cigany". The atmospheric opus "Stigmatized" is the last impressive moment of this album – a song that cleverly combines clear narrative style vocals with low chorded crunchy riffs; the closing composition "Anger" provides a simple ending to this diverse release.
Even though "Redemption" scores slightly less in my evaluation in comparison with its predecessor, "What Doesn't Kill Me…", I believe that it is potentially a much more important album.
Confused? Let me explain…As I mentioned before, this twelve track release somewhat lacks cohesion, with the gap between 'average' and 'good quality' compositions being fairly wide. Those compositions, however, that do stand out on this album are not only much better than those in "What Doesn't Kill Me…" but, most importantly, portray Ektomorf as an outfit capable of great things in the future. There would undoubtedly be a few people out there that will always react in a negative way to Ektomorf's music, but I am sure that this will not deprive Zoltan and his mates from using Ektomorf as a platform for releasing all those feelings of sadness and anger that helped shape the character of "Redemption". If you feel the need to relate to such feelings, then this album is definitely for you.
John Stefanis
Rating: ***1/2 (3.5/5.0)

---
David Randall presents a weekly show on Get Ready to ROCK! Radio, Sundays at 22:00 BST (GMT+1, repeated on Mondays and Fridays), when he invites listeners to 'Assume The Position'. This show was first broadcast on 30 August 2020.
UK Blues Broadcaster of the Year (2020) Pete Feenstra presents his weekly Rock & Blues Show on Tuesday at 19:00 ( BST, GMT+1) as part of a five hour blues rock marathon "Tuesday is Bluesday at GRTR!". The show is repeated on Wednesdays at 22:00, Fridays at 20:00). This show was first broadcast 8 September 2020.
---
Listen in to Get Ready to ROCK! Radio…
Click the appropriate icons at the top of the page.


Featured Albums w/c 14 September (Mon-Fri)

09:00-12:00 PERFECT PLAN Time For A Miracle (Frontiers)
12:00-13:00 OVERLAND Scandalous (Escape Music)
14:00-16:00 ANNIE DRESSNER Coffee At The Corner Bar (indie)

Power Plays w/c 14 September (Mon-Fri)

GALLOWS CIRCUS Medicine Man (indie)
ROY ZIV Currents (indie)
NOVATINES Honey (indie)
KILFEATHER Never Stop (indie)
VANILLA FUDGE Immigrant Song (Golden Robot Records)
BROKEN MACHINE Sweet Mary Jane (indie)
---
Tweets by Get Ready to ROCK!
---