DEW-SCENTED (Leif Jensen) INTERVIEW
Dew-Scented is one of these bands that has been touring relentlessly since their inception and even though, at least with regards the UK, they have not yet been given the opportunity to do their own headline show, they have always hit the stage with the kind of enthusiasm and passion that forces us to not only acknowledge their presence but also offer them a round of applause after their set is over. Sadly, due to important last minute arrangements I did not manage to attend their latest show in London, but I was given the opportunity to compile a few questions for the band – questions that were kindly answered by the band's frontman Leif Jensen. These focused on the release of their eighth studio album "Invocation", as well as on other topics.  I am sure you will enjoy Leif's passionate and thought-provoking answers!
By Yiannis (John) Stefanis.

1.     Hi Guys, thank you for taking the time to do this interview. How are things with Dew Scented at this moment in time?
Leif:Sure, very welcome. We are back home after a very long, exhausting but also very successful European tour now, so it's actually cool to catch up with some press now. Things are good with the band, I guess. We are taking a bit of a break in these coming weeks and will then start working on new material for a next album, as we are collecting ideas already for a while. We will not be playing very many more shows in 2011 in order to focus on the writing…
2.     You have recently taken part in a one month long European tour, opening for Death Metal legends Nile and sharing the same stage with Melechesh – an outfit whose musical approach is quite different from yours. How would you rate the overall experience? Were there any lessons to be learned there?
Leif: It was a great tour. The atmosphere between the bands was very relaxed and nice. Also the attendances were pretty good all over the place and most of all, we have managed to visit many new countries and cities that we had never played before with Dew-Scented, so that was the main goal with this run. Yeah, I can see how you might think the bands didn't really fit very well together, but I personally liked that fact quite a bit. Each band had a different approach and more "individual" sound, which made the evenings more enjoyable to me, as compared to a tour where you have four brutal death metal bands together, if you know what I mean. All the bands were nice people and good live-acts too, which made it quite a challenge to have to be at 110% every night. We had toured with Nile before in 2003 and also visited the UK during that tour. They treated us very well once again and it was great to team up with them again after so many years and seeing how both bands are doing well these days in rather different line-up's then compared to the first time we toured. Lessons to be learned? Well, yeah, actually every show normally teaches you some lesson…but this time around it was a longer tour for the new Dew-Scented line up so that wasn't always easy…and we had a session live-guitarist on board as well. I thought we did fine anyhow and I have the feeling we made many new friends along the way…
3.     Did you manage to win any fans over during these shows and how easy was it to perform in front of what I assume was a predominantly Death Metal audience?
Leif: Well yeah, I think we did well. I mean, we were "breaking the ice", so to say. Being the band in the middle (3 of 5) is never really easy but I think it was a good position for our style of music on this tour. We are used to play in front of mostly Death Metal crowds really, so that wasn't quite as new to us. I mean, I would rather see us as Thrash Metal band but a lot of people put us on the Death Metal side of things because of the level of brutality and also the rather heavy riffs and harsh vocals. That's fine with me too, I guess we're somewhere in between but we have always toured more on the Death Metal side of things. Of course it would have been great to be part of a more Thrash tour like Kreator / Exodus for example but it's not really always our decision…
4.     Now that this tour is over, are there any other gigs planned for the immediate future? The summer festival season is only four months away, so is there any chance that we might see you performing in any of the prestigious festivals that are taking place in your country every year?
Leif: Yes, we will play some few selected festival shows in the summer of 2011 as well. We just announced Dong Open Air and Party.San festival in Germany for Dew-Scented. In general, we will however not play much for the rest of the year in order to focus on working on new songs for a next album. I would be happy to add some more foreign festival dates, but at this stage it doesn't look like we will do very many shows during the rest of this year. We had quite a busy schedule this last year, so it's time to sit back and do our homework with regards to new songs too, hahaha. Stay tuned for news and next gigs to be announced via www.dew-scented.net <http://www.dew-scented.net/> and www.facebook.com/dewscented <http://www.facebook.com/dewscented>
5.     It's been eight or so months since your latest studio album "Invocation" hit the shelves of record stores here in Europe – enough time to allow you to better know it and further evaluate it. Are you still pleased with the twelve compositions on offer (fourteen if you own the limited edition)?
Leif: Yeah, I think we are still very pleased with "Invocation"! I think as a band you always find things to improve and also this was the very first time that we composed and recorded together with this new line-up for Dew-Scented so obviously we will have some things to do differently and hopefully better next time around, but all in all I think the album came out great. A lot of the material has a good transition into being part of the live set and I think there are a lot of cool little elements to discover with repeated listening of the record. I personally felt that the album was a lot stronger than the previous two releases, so that made me look towards the future (of the band) with a very positive attitude. Now time will show what we make of the experience gained this last year for the next album…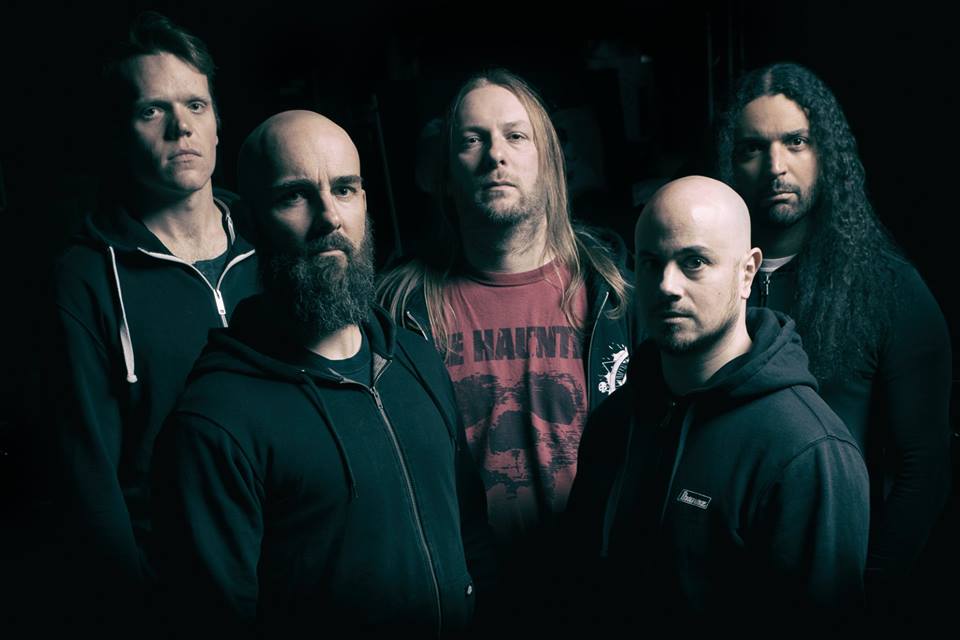 6.     In terms of approach to song writing and performing your material, what is it that you did differently in "Invocation"? If you were given the chance to record it again today would you have done anything differently?
Leif: Well, it was more of a group effort than before, really. We had re-shaped the band's line up completely in 2008 when our guitarist-team as well as the drummer position changed for the band. That meant pretty much starting from scratch because we got new people in and also had to develop a new way of writing the songs. We spent a lot of time in the rehearsal room for "Invocation" as we knew it had to be a 110% album and also wanted to prove that the band was still alive and kicking. We even did a proper pre-production for "Invocation" and I think all in all, things developed well with what we hoped the album to be. I don't think I would change much at all about it….I personally don't like to look back too much anyhow, as every album is just a "moment in time" and will simply show you what the band was all about when it was made and recorded. It's up to us to take all we learnt from this album and use it to make an even stronger one hopefully next time around, really.
7.     Which are the songs which you believe stand out in the album and which better represent the band's capabilities and spirit in the year 2011?
Leif: Well, there are several really. I Think "Arise From Decay" and "Have No Mercy On Us" shows how 'typically' Dew-Scented this new line up can also be. Those two tracks contain all trademark elements of the band's sound and are easily qualified to be immediate live tracks. I also liked the different vibe that tracks like "A Critical Mass" or also "Global Hysteria" contained, as it adds diversity to the listening of the full album. There are some really cool riff ideas on "Slaves Of Consent" too, even though that song will probably never make it onto the live-set due to its length and very "constructed" structure. My personal favourite song on the album probably is "Revel In Contempt". Super heavy guitars and non-stop intensity. I hope we can add that one to our regular live-set in the future too…
8.     The limited edition of "Invocation", of which I am a proud owner, features a cover of DRI's classic opus "Thrashard". You have chosen to stick to the song's original formula rather than trying to change and experiment with it – why is that?
Leif: I actually love that song! It was my idea to add "Thrashard" as cover song to this recording and it was fun to rehearse and track it. Actually I think we aren't really the band to "change" or experiment with cover songs really…I prefer to re-produce the song in its original version but play it in our own style and with added heaviness in the end. I mean, most of the time a cover song will not even come close to the greatness of the original version, so why bother and fool around with it?! To me a cover song is a tribute to a band and a song that you like yourself and appreciate enough to play it yourself, so….We made the D.R.I. song because it might be a cool track to play live and also it tuned out quite cool after all. We actually also recorded cover versions of "Powermad" and "Genocide Superstars" during the sessions of "Invocation" and used them as bonus tracks (I-Tunes, Japan) as well! We have a long tradition with covering tracks and we are trying to do 1-2 cool songs with each studio visit we have to record a new album!
9.     The reviews that I read both on the net and in local magazines here in the UK were fairly mixed. How was the album received in your home country and in other parts of the world? Are you satisfied with the overall response?
Leif: I can't say I saw much UK reviews, but "fairly mixed" sounds OK to me, as I am sure this isn't everybody's style of metal anyhow. Some people might find it too extreme to really get anyhow, and let's be honest; it's not the most "trendy" of genres, so obviously people don't spend a lot of time with it. Overall I think "Invocation" was extremely well received, especially since we replaced 3/5 of the band and completely changed the song writing team between records. It was good to see that people seemed to give us a "thumbs up", even in this new constellation! So even if maybe some reviews were rather negatively trying to say "just another next D-S release", I actually took that as a big compliment because it's been only 2 years for the new guys to work with the band and there was a lot of pressure on our backs for this record, as it meant a complete new beginning. Personally, I was really satisfied with this album…that's why it was actually released at all! I mean, we do quality-control ourselves in the rehearsal room and studio too, because nobody is "forcing" us to release records. We will only let something come out if we feel it's the right next step forwards for the band really!
10.  "Invocation" was the product of a new Dew Scented line up, one that features the guitar duet Michael Borchers/Martin Walczak and drummer Marc-Andree Dieken. How different was the overall experience in the studio this time round as new people were added to the fold?
Leif: Oh well, like I said before…It was a new beginning for us. We had to first get to know each other as individuals, players, writers and performers. Everyone has a different opinion about certain small things so of course in the studio that creates friction and disagreements. But that's what it all comes down to in the end with a group of people like a band: Compromise! Hopefully you will always finally settle for something that is a good mix of everyone's input and for something that shows the best of all in a fair way! For the first time of us being in studio with this new line-up I thought it was a great result!
11.  Some bands prefer to use the studio solely for recording purposes, being totally prepared prior to entering, while other use is as a source of inspiration, putting quite a few finishing touches to their albums while being there. Which category does Dew Scented belong to?
Leif: We belong to the first group, definitely. We ideally like to have everything super-ready and simply use the time in the studio to nail all ideas down as perfectly as possible! We actually spent a lot of time in the studio for this album (almost 5 weeks) and were even running tight by the end. I mean, it was a lot of material (18 songs in total) and we did a lot of guitar tracks as well as work on the individual sound of the instruments to make sure we carry forth with Dew-Scented's trademark sound approach in the right way. I think Jörg Uken / Soundlodge Studio deserves a lot of credit for making the album sound so powerful and the band so fresh, all in all. But to return to your original question: I actually really don't enjoy being in the studio because of the extreme pressure of delivering a perfect performance that will be available in public for all times right there. I prefer playing live or writing new material in the rehearsal room, so I really don't understand bands who have "fun" in the studio…well, unless they have too much money and decide to record for several months. But actually not even that would work for us, because the songs would probably sound "lame" and "controlled" if you spend too much time with details in the studio really.
12.  The production given to the album by Jorg Uken was quite powerful indeed and I felt that really complemented all those meaty riffs that are the backbone of every Dew Scented composition. Will you consider working with Jorg again in the future?
Leif: Yeah, as I mentioned before, I can only agree. Jörg is not only a friend to us, but also capable of giving us a pretty original and heavy sound that lets the band shine through in the right way. He is a very talented engineer and I think more and more bigger bands will be using his studio facilities and services soon. For my part, I am happy to work again with Jörg, but we should first be writing those new songs to see what they sound like before we make any decisions about how, when and where we will record them. By the way, I really enjoyed you calling the riffs "meaty", even if I am a vegetarian. Good one…
13.  As a means of promoting "Invocation", you have decided to shoot a video for the four and a half minute rhythmical thrasher "Arise from Decay" – a video which comprises solely of live footage. What made you opt for such an approach instead of creating a story behind the song? I could think of a few visual ideas that could help present the strong lyrics that associate with this nice song.
Leif: Well, we had done storyline videos before and I thought especially "Turn To Ash" (off "Issue VI", 2005) turned out really cool. Our latest video "That's Why I Despise You" (off "Incinerate", 2007) was super awesome looking glossy high-end clip with a mix of performance and some storyline to spice things up. For this album we didn't really consider making any clip at first, but when some of our shows were filmed along the way, we asked a friend of ours (Bomber from Visions In Fear) to gather the material for a live-clip. "Arise From Decay" was the obvious choice as far as the song, because of its very "typical" Dew-Scented character and also it gave us a chance to showcase the new members a bit more and add "their face" to the music so to say. In general I am always a bit sceptical with video clips for Thrash Metal bands, but if we had the right idea and the right guy to shoot the clip, we would probably consider doing another clip for "Invocation" too…
14.  "Invocation" was released in Europe by Metal Blade records while in America you used the services of Prosthetic records. Are you happy with the job both labels did in promoting the album? If you were granted unlimited amounts of money from them for promotional purposes, what kind of ideas would you like to see being materialised?
Leif: It was all fine really, yeah. I know we are not the biggest band in the world and also not on the labels' rosters so it was all fair I think. Like I said before, I don't think we are the trendiest of bands, so you need to be very realistic with what you do. The new business structure that we have for the band (with different licensing partners around the world) is working out really well for us so far and I think people both in the business, media and also the fans know what the band is actually all about by now! Unlimited amounts? Hmmm, interesting thought…but it's so far removed from reality that I can't even fully appreciate the thought, hahaha. I guess I would certainly invest more money on the live front and add some more elements like better gear, lightshow, etc. to our gigs and also put down some money into heavier / bigger / more international touring again. I think Dew-Scented is most of all a very intense live band and this is how our music works best, so yeah, I think that's where the invest would be best made in the end too.
15.  If you were to compare Dew Scented era "Impact" (2003) and that of today, which would you say are the main similarities and differences?  Do you believe that as a result of those line-up changes, Dew Scented have come through as a stronger band?
Leif: Hmm, hard to say really. Different times show a different situation for the band. I think the current line-up and the 2011 situation from the band clearly profits from the heavy work we put into things in the years 2002 – 2006 and yeah, every bit of the experiences we have made and collected goes into what we do nowadays, so it wouldn't be fair to directly compare the situations. I think the band is more "aware" and focused these days in terms of playing and writing. Obviously it's different people involved, but I would like to think that it's still the same band, the same style and hopefully people who enjoyed an album like "Impact" (which still makes for a good amount of the songs we carry in our current live set by the way, so that says quite a bit about the qualities of that very album…) will also be able to get into "Invocation" and the current shape of the band! And yeah, as they like to say "what doesn't kill you only makes you stronger"…the band is still around, even though we went through really hard times and bad situations, so I guess some lesson was learnt along the way!?
16.  Next year we will be celebrating the band's twentieth anniversary. Have you planned any special event for that purpose, like a special show where you could perhaps invite past band members to perform?
Leif: Hahahaha, we haven't really even thought about it, but thanks for reminding us. We will look into it and see what we can do about it!
17.  What is the relationship that the band has with its past members? Are you still on friendly terms with most of them?
Leif: It's mostly an amicable situation really. I mean, we didn't really have big bad fights when parting ways with members, apart from the usual bit of emotional drama that one goes through with every separation in life. In fact, we still see some of the ex-members at our shows and I am trying to stay in touch as much as I can. But in the turn of the years there has been a large amount of people playing in / for Dew-Scented so that it's becoming increasingly tough to follow up well. Not many of our ex-members are musically still active and have instead focused on family, jobs or other things in life. In fact, it's only our latest ex-guitarists Flo and Hendrik that have a new band out there called General Chaos. Check them out, pretty cool debut album (http://www.myspace.com/generalchaostheband). But yeah, in general parting with a long time band member is like breaking up with your girlfriend. How much and how well are you actually in touch with your past girlfriend/s?!
18.  What would you say are the highlights and the low points of the band's career and what it is that you would like to achieve in the future? Do you reckon that we will get to enjoy the band's creations for many more years?
Leif: Well, the highlights surely include a lot of the touring we have achieved to do (Including all types of places in Europe, North America and Japan) but in general also the fact that we have been around a lot longer than we would have all initially hoped for. And most importantly, the quality of the records still continues to challenge us to continue moving forwards with this. So yeah, that's a definitely highlight: Perseverance! Low points certainly include changing of members and the need to re-group. That's always tough and also pretty "boring", really. But oh well, that's a part of it all, as I have come to understand. It's how you deal with needed changes in your way that makes what you are! I would hope to continue to enjoy the band for a while, but I really try not to look too much into a distant future really…and especially the questions about the coming goals are tough ones. I would like to remain realistic and hope for the chance to do a great next album and some shows to support its release. That would be good enough…
19.  Even though the Trash Metal scene has become again quite saturated during the last few years, there are many new bands appearing each day. As veterans of the modern Thrash Metal scene, do you have any advice that you would like to give to these bands, things that they should be careful of or try to avoid?
Leif: No man, I actually think it's cool that there are more and young bands coming up these days, making it a fresh next wave for the Thrash Metal movement. I mean, since we started Thrash was "not around", "dead", "on a revival", "the next big thing again", "over saturated", etc. You name it…hahaha. It all comes and goes within the Metal sub-genres and the most important advice for any aspiring musician would be to follow you heart and your instincts. Do play whatever you feel best about playing and try not to compromise too much along the way. Don't listen to the wrong people (I know, that's easier said than done…) and don't expect too much help/assistance from the business…it's all in your hands in the end! Also, and this is important: Make sure you are actually good enough to play your instrument and to perform heavily in a live situation. I mean, everyone is "killer" these days in the studio or at home due to the better technical facilities that everyone has at his reach, but that's not really what matters for Thrash Metal. You actually need to create a strong feel and atmosphere when you play. You need to sweat and be convincing in an honest way, so make sure you are aware of that! This is not a fancy style – this is a pure and modest affair!
20.  Leif, the last words are yours. Any special message that you would like to convey to your fans?
Leif: Well, thanks a lot for the time you put into this interview and the support you are granting Dew-Scented. Too bad we missed the London gig of the Nile tour, as it would have been great to meet you there for this interview as well as to finally play again in London after four years of not being there. Oh well, hope we can manage to make up for it soon and return for some cool gig at some point. In the meantime, keep it heavy and thanks to everyone who cares about this band over there in the UK. Keep yourself updated with news and coming shows of the band here: www.dew-scented.net <http://www.dew-scented.net/> and/or www.facebook.com/dewscented <http://www.facebook.com/dewscented>
---
In his show broadcast on Get Ready to ROCK! Radio on 10 May David Randall played a further selection of artists and albums included in the new Features series, "2020 Vision".
---
Listen in to Get Ready to ROCK! Radio…
Click the appropriate icons at the top of the page.


Featured Albums w/c 25 May (Mon-Fri)

09:00-12:00 FM Synchronized (Frontiers)
12:00-13:00 THE ROCKET DOLLS The Art Of Disconnect (indie)
14:00-16:00 BEN KUNDER Searching For The Stranger (indie)

Power Plays w/c 11 May (Mon-Fri)

THE MERCY KILLS Alone (Golden Robot Records)
DEAD REYNOLDS By Your Side (indie)
THE JAILBIRDS Watery Grave (Golden Robot Records)
ALI MASS & MICKY MOODY These Times (Last Man Music)
MASSIVE WAGONS Bangin In Your Stereo (Earache)
UDO We Are One (AFM Records)
---
Tweets by Get Ready to ROCK!
---