We last caught up with singer/songwriter Lewis Clay back
in his days fronting the Heal back in 2005. Now he has a new album out, the
rather good 'Something About You', read on…

1. What are you currently up to?

Playing function gigs as a money maker, putting my face about in London,
interviews on the radio, showcase events, busking… just about all I can :)

2. Could you take us through the songs on the new album 'Something About
You'?
Well, the process has been kind of going since 2008/2009… Many songs have been
written and thrown and shelved. I had about 60 songs to choose from on this
album, but I wanted to strike a balance between new and old ideas, melancholy
and less so. About 6 months ago I just decided to invest in home recording
equipment and just get it all out there to hear. The end product is a shiny new
album that I'm very proud of.

3. Do you find it easier working as a solo artist or do you miss the band
environment you had with the Heal?

I miss the band environment when Ii do live shows. I am actually in the process
of putting together a few musicians, drum/cajon player, bassist, guitarist,
keyboard etc… adaptability is key with these kind of musicians tho.. a three
piece could probably do the same job as not all songs demand each of them…
Vocal ability a must… You can tell I've been writing ads for this! I don't
miss many aspects of band life tho. I don't miss having to gather 4 people
together at the same time and crack on. I don't miss the ridiculous arguments
and these days, if I get a last minute gig I can just do it…. cause there is
only me to answer to… If I had known then what I know now I would have done
this long before I was in a band.

4. You have been on a couple of X Factor auditions. What are these like from
the point of view of a performer and do you think the selection panle may be
looking for a set type of singer to enure high ratings, as opposed to say basing
it purely on talent?

I have been twice. Once in 2009 when I got to bootcamp and this year where I
didn't get in front of the judges. I'm a better singer now then I was then, so
that really tells its own story. They know who, what, where they want…. But it
is what it is. A viewer pulling monster that knows exactly how to make the
money! It is what it is. If only I'd thought of it ;)

5. How important are gigs for you in helping build your profile and is it
easier/harder to get gigs than say five years ago? Have you tried to break into
the festival circuit at all?

Gigs are hard to come by, management is still hard to come by, promoters are
hard to talk to, labels are near on impossible to reach, opportunities are few
and far between and I'm still waiting on the outside. Not a lot has changed in 5
years.

6. Is rock music in a healthier state now than ten years ago? How important has
it been to have a specialist magazines in the High Street stores like 'Classic
Rock', 'Rock Sound' etc raising the profile of the music?

I think music is in a fairly poor state. Nothing is built to last. Music seems
to have become a fad as opposed to a fad maker… Music built the 70's/80's and
to an extent the 90's… now fashion dictates whether music is cool…

7. If you could create a fantasy band line-up who would be in it and why?

Ahh, I remember this question from last time I think…



Drums, for me, would be Grohl… I love his driving rhythm. Infectious

Bass, I would have Flea. I love the energy…the sheer lunacy of the man

Guitarists would probably be Joe Perry and Kirk Hammet…
The live sound they would create would rip ya head off…

Backing vocals I would have Steve Tyler and Nina Simone…

I would have to sell my soul and get up front for them tho… How could I not
put myself in the band… If I got booted out I suppose Freddie Mercury can have
my place.. hahahaha

8. What have been the live highlights so far and why?

Getting the album released has been a weight off my mind. People's reactions to
the songs have been heartening. I think now, ironically, it's my live shows that
need a boost…

9. In this age of downloads and declining CD sales has the internet helped
you get your music out there or has it in some ways hindered it by websites
offering free downloads etc.

Massive hindrance. CD's are dead… alas. The internet is rife with piracy, so a
struggling musician only had to wait 3 days to see a ripped version of his song
selling on a bit torrent site… sad times

10. What do you enjoy doing in your spare time away from music?

Spare time?!?! The usual I guess… Football, drinking, gym, dating and all the
naughty stuff ya mum wouldn't be happy about x

I have a showcase gig on

30th August

AAA
11-13 Kensington High Street
London, United Kingdom

Event info here: https://www.facebook.com/event.php?eid=252847244744584

I'm on a 7pm and it's kind of a big deal for me… so anyone wanna show support
this would be amazing.

Also, I would like to take this chance to thank everyone that gives a shit. You
guys have really helped and pushed me in ways that you couldn't make up. I have
much love and time for you all. Get on my website www.lewisclay.com or my
Facebook www.facebook.com/lewisclayonline and say hello…#

---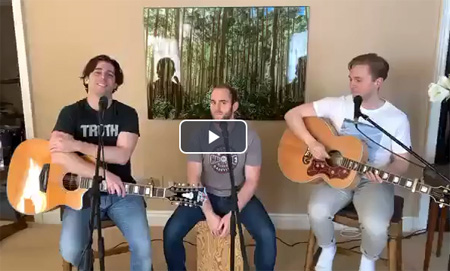 Check out Canadian singer songwriter Josh Taerk and his exclusive live session via Get Ready to ROCK!'s Facebook page
---
In his show on Get Ready to ROCK! Radio on Sunday 29 March David Randall featured a selection of tracks from "Albums of the Month" (January-March 2020) (29:45)
Listen in to Get Ready to ROCK! Radio…
Click the appropriate icons at the top of the page.

Featured Albums w/c 30 March (Mon-Fri)
09:00-12:00 HARTMANN 15 Pearls And Gems (AOR Heaven)
12:00-13:00 H.E.A.T. II (earMUSIC)
14:00-16:00 GRAHAM GOULDMAN Modesty Forbids (Lojinx)
Power Plays w/c 30 March (Mon-Fri)
LOUISE LEMON Devil (Icons Creating Evil Art )
BLACK ORCHID EMPIRE Winter Keeps Us Warm (indie)
ONE DESIRE Shadowman (Frontiers)
CRYSTAL IGNITE Black Mamba (indie)
PICTURESQUE ATTN: (Rude Records/Equal Vision Records)
SKARLETT RIOT Human (indie)
THE COVASETTES Spin (indie)
---
Tweets by Get Ready to ROCK!
---