HUNTED – "WELCOME THE END"
MASSACRE (2011)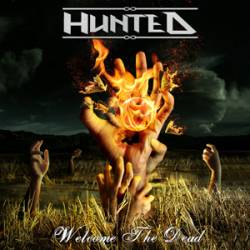 Having been to more gigs that I can possibly remember or even be able to put down in paper these last few years on British soil, I thought that I was fairly up to date with regards young and promising band hailing from this unique island. Well, apparently it looks like one very impressive quintet which hails from Cardiff and which listens to the name Hunted has passed under my radar – a real shame, as it is one of the few young bands whose musical influences and orientation are more European than those of their fellow countrymen. Having apparently made a name for themselves in the live circuit and received a few very positive reviews along the way, these five lads decided to make that extra step by releasing their debut full-length album entitled "Welcome The End".
I was initially quite surprised by the fact that the band was snatched by a German label rather than signed by an indigenous one, but having listened to the ten compositions on offer I soon realise the reason why. Hunted look musically towards Power Metal legends such as Crimson Glory and Nevermore for musical inspiration and with a vocalist whose vocal completion is predominantly similar to that of Tim "Ripper" Owens (ex Judas Priest) and to a lesser extent to that of Warrel Dane's, it would have been fairly unusual for any British label to offer them their guidance and protection – local labels being mainly Thrash and Black Metal orientated as we all know. Massacre, saw the potential in those five lads and decided to offer this album a global 2011 distribution (was originally self-released back in 2010) hence the reason why you are now reading this review.
Ok, enough with history lessons here – is this album really worth all the buzz? Even though it is not the mind blowing debut that perhaps the band would have hoped for, it certainly proves Haunted to be a very inspiring young band and raises hopes for a great future. My main concern here is that these lads, though technically really efficient, are trying too hard to impress and that results in some of their composition coming across as being slightly overcharged and lacking cohesion. Though featuring some truly inspirational solos and passionate Crimson Glory sounding vocals, compositions such as "Chosen" and "Impaled" are slightly difficult to rhythmically follow and the same applies to the even more confusing "I Want Nothing". The moment the band decides to technically relax and work more with melody in mind, the results are truly inspirational. Want proof? Check out either the acoustic guitar theme of "The Silence Of Minds", the cleverly-crafted bass theme in "Scars" or the magnificent Blind Guardian meets Iron Maiden guitar work in "Shadows" (the best song of the album) and you will see what I am talking about. Fans of Nevermore will appreciate the band's decent attempt to cover the classic opus "The Heart Collector" – a performance that stays faithful to the original version and which again proves these lads' musical skills.
Coming out with a debut release capable of raising a few eyebrows in the year 2011 and with so many good quality new bands competing for a place 'under the sun' is not an easy task whatsoever, but these guys are making a very good statement with "Welcome The End". Though not quite ready to grab us by the throat and command our attention and respect they have shown that, providing the keep their levels of hard work and commitment intact, it will not be long before this happens. I hope that this will be the beginning of a long and fruitful career and I wish these guys all the luck in the world. Keep it up lads!
John Stefanis
Rating: ***1/2 (3.5/5.0)

---
Listen in to Get Ready to ROCK! Radio…
Click the appropriate icons at the top of the page.



Pete Feenstra celebrated his 300th show in October 2019. Pete heads up a five-hour blues rock marathon when "Tuesday is Bluesday" from 19:00 GMT. Listen out also for his interview-based Feature show on Sundays (20:00 GMT)

Power Plays w/c 11 November (Mon-Fri)

MILES NIELSEN AND THE RUSTED HEARTS Hands Up (indie)
THE FARGO RAILROAD COMPANY Something In The Water (indie)
THE DARK ELEMENT If I Had A Heart (Frontiers)
LIBERTY LIES A Thousand People (indie)
DIRTY SHIRLEY Here Comes The King (Frontiers)
CARRY THE CROWN Runaway (indie)

Featured Albums w/c 11 November (Mon-Fri)

09:00-12:00 WORK OF ART Exhibits (Frontiers)
12:00-13:00 SIGN X Like A Fire (Pride & Joy Music)
14:00-16:00 JACK BROADBENT Moonshine Blue (Creature Records)

Albums That Time Forgot (Mon-Fri)

MAGNUM Sleepwalking (1992)
---
Tweets by Get Ready to ROCK!
---