What are you currently up to? (recording, gigs, plans etc.)
Salutations.
:)
Thank you for giving us this chance to introduce the band and have a little chat with your readers.
We're currently beginning plans to get back into practice, so we can be well rehearsed for any shows that may pop up, but mainly aiming to be ready for 'The Night Of The Prog' festival in Germany, come July time.
Alongside this, we're about to release our first video from the new album, for the song "Inversions", which we hope will introduce more people to the band.
We're working on quite a few things at the moment, a lot of which I'm sworn to secrecy in…
;-)
If you enjoy what you've heard of the band thus far, join our various social networks pages and keep an eye out for news.
We're promoting the heck out of the new record and trying to sort some touring plans for later in the year.
 2. For those new to the band how did you original form and what sort of
musical vision did the band have?
We formed in 2004, but I guess it wasn't until we reached a point of near collapse from a personal and business aspect at the end of 2008 where we REALLY started making plans and working hard to push forward…which has led us to working smart and very hard to build the band, which in turn led to us securing a record deal with Mascot Records/Music Theories Recordings after we self-released our debut album…and the rest is history, but the more inquisitive can find more info on this, by reading our biography on our charming website.  (www.enochiantheory.co.uk)
We have 1 E.P and two albums out now, which has been great for us.
It feels strange to be able to say that we have a 'back catalogue' of sorts!
When we started, the first demo was just to get used to working with one another and see if this was all going to work.
It did, even if we were a very ropey grunge/metal/prog-hyrbid in need of some SERIOUS work, but the raw materials were there and we had some good ideas to begin with.
We then started working on our first E.P, which has shaped the band really…I introduced keyboards and it's been something we've continued to explore.
To produce epic, yet honest music.
You've got to 'feel' what you're doing, even if you know those 'feelings' are merely electrical currents and chemicals in your head…that's fine, just roll with it and make it real.
I guess, personally, I just wanted to write songs that sounded like the music we wanted to produce…Shaun and Sam feel the same and that's why it works for us.
As I said before, it wasn't until the end of 2008, where we sat down as a band, shed a band member and then continued as a 3 piece without drama and issue that we seriously started working harder and smarter, with no money to do anything.
The 'power trio' format has worked for us thus far, as everyone has their distinct place in the band but is part of the whole, bringing their own flavours to the table and it's great for us…we've tried to integrate other people, but they haven't really understood what we're trying to do and thus have made a swift exit!
I think this current incarnation works for many reasons…I get to write the music and indulge my love of musical exploration, Shaun deals with the business and his bass and Sam is the tech guy, while keeping the poly-rhythms tight…but we are all the band.
It just works out great really, we're very much a band…without one another, we'd be very much poorer.
I think I'd disappear up my own behind musically, without Shaun and Sam to reel me when I say things like
"Hey guys! I've written this 47 minute piece of music that is basically me screaming into a microphone in Latin with a 'reese' bassline going, what you think!?"
:)
It's not quite that bad in reality, but the guys do help in handling the babbling ball of musical madness that is me when I start writing nonsense and claiming it's my new direction…

And on the flip side, they trust me enough to wade through all the stuff I do write,  to organise a record and get everything moving…hence why we're good for one another.
We're very much a band, pulling in the same direction.
3. Could you take us through the new album 'Life…And All It Entails'? (e.g.
ideas behind the songs etc)
Ah…that question again.
Well, I don't discuss my lyrics, as they are for me…something I keep for myself.
I'm a little stubborn in that instance, because a lot of the themes are things that I need work through and deal with before I can discuss them…singing them every night and reflecting on them is a form of catharsis…and besides, I really have no interest in discussing what is going on in my head, as it's not a pretty place at times.
Lyrically, I'm dealing with the usual themes that present themselves in our day to day lives.
Hope, fear, love, loss, anger, calm, reflection, compulsion, up's and down's…smiles and frowns…
We did include the lyrics in the new record's inlay sleeve this time, much to my displeasure, but hey…I went with what had to be done, but I don't like to discuss them till I've worked it all out.
However, I will say that the title of the record accurately reflects the contents lyrically…but I'll let people make what they want from it.
Musically, it was a continued exploration of the themes started on our debut album, as we felt we had perhaps found something that we liked and wanted to explore further before we started exploring other more random areas.
One of the main differences between this record and the last is the chance I've had to explore music synthesis and orchestral scoring in recent years, which allowed me to expand on these themes from the last record.
Scoring the music for 'The Lost Orchestra' is always a pleasure and something that expands our sound, but it's very much our sound, as a result.
I will add that the interlude, 'Non Sum Qualis Eram' was inspired by a clever little theme in the various footnotes of the book,  'House Of Leaves', by Mark Z. Danielewski.
If you get a chance to read it, then do so.
'Singularities' is dedicated to a friend, who is no longer with us…through their own choice…but is more a celebration of life…and seeking hope, even if the world has gone to hell around and inside you…
4. How did you hook-up with Rob Aubery? What did the band look to him to
bring to the album and its sound?
We met Rob on the tour we did with Spock's Beard in 2010, as he was soundman and tour manager…having worked/recorded SB many times in the past.
We knew his experience behind a desk was without question, as his previous clients had been well respected names in the industry, even if we'd never actually listened to them!
After the debacle of recording our debut record in 3 different studios and then having it mixed in another studio in Sweden, we just wanted someone who could do it all in one place and without the stress and worry we had before.
Rob said to us that he wasn't sure he could give us the record we wanted, we appreciated his honesty but we were pretty sure that with us calling the shots, he could do what was needed.
His ear for things is superb and he very much helped us contain the 'crazy' on this record.
It was such a chilled recording process that it was maybe not quite as rock'n'roll, as we'd have liked…but that in itself is a good thing and as a result, you have what you hear on our new record.
We'd recommend Rob to anyone wanting to record.
5. What sort of set is the band planning for July's Night of the Prog?
It's a secret…
;-)
We've literally started working on this now, so I cannot give you an answer really…but we'll be playing songs from both of albums..and maybe a cheeky cover or two.
Maybe we'll simply show up naked and make some sort of political statement…or perhaps sit onstage and play cards for the whole hour, like Zappa occasionally did at his shows…that would be funny.
;-)

6. What have been the live highlights so far and why?
Touring across Europe in late 2010 with Spock's Beard on our first proper European tour was a definite highlight, meeting some great people and having fun doing it…that's been the main highlight to date, I'd say…even if at a lot of the shows, we had people confused…that was just funny!
We'd never really travelled abroad, so to get on a big ol' tour bus with a band that has many fans and travel some insane distances was a truly great experience.
Watching SB do their thing every night was an eye opener, as to how a professional band does things live…taught us a thing or two.
Mind you, I don't think I've ever drunk that much alcohol over a 2 week period before!
Playing abroad for the first time in 2009 at ProgPower Festival in Holland was great fun and travelling to Slovenia to perform at the Metalcamp Festival, on the gorgeous River Soca was something I'll never forget.
We had a few friends attending that particular festival randomly, so it was great to have a small band of brothers some 700 miles away from home to hang around with as well.
Another show I can think as one of my fave personal shows, was playing at 'Le Blind Test' in Lille (France), as it was a very small venue but we had a great show.
Just enjoy that intimate atmosphere where people are literally a foot away from you and you cannot escape them…that's the shows I like.

7. Are there any plans to release a live DVD at some stage?
Maybe at some stage…I think we'd like to get a few more records behind us first and see what happens.
I know the label wanted to do something similar after our 3rd record, but we'll see where we are with labels and such in the future.
But yes, at some stage we'd like to do a live DVD for the people who cannot attend our shows…it would be for them and a chance to see how good we are live…really make a great package out of it.
I must remember to not talk nonsense onstage though during the recording though…
;-)
8. Has the internet helped you get your music out there or has it in some
ways hindered it by websites offering free downloads? Do you still rely
heavily on CD sales as opposed to download?
Interesting you should ask this, I discuss this with other bands and friends a fair bit.
I think the opinion is quite divided…on one hand it is great that people are spreading our music and more people are getting to hear it in places that the record is not officially available…and some of those people then buy the full CD or some merch, etc…
I think the other side of it is that it is costing labels a lot of money and labels allow the bands the funds to record the music in the first place…so, it's hard to say…
I came across a Russian registered website recently which was selling our entire record for 69p!
I had to chuckle at how they were getting away with this, but this site basically had every major and minor artist available on there…not sure how much of a con it was…but it still made me chuckle.
For us, I believe digital downloads have been a lot more successful that physical copies…as we were loitering about in the Amazon Rock & Metal download charts for quite some time…but we won't really know for a while yet, till the sales results are pooled from everywhere.
I did have to chuckle to myself when I was randomly looking for reviews of our new record a month or so back, as I literally came across MORE websites housing free and illegal MP3's of our music than there was sites with official news and reviews!
I guess the opinion is still divided slightly amongst bands, but we'd prefer more people hear our music and then perhaps allow us to play more shows in other countries than lock our music behind a wall for people only to stare at…
I guess I just hope that people will listen and then buy the CD for it's superior audio quality and attend a show/share with their friends…it's the best we can hope for.
9. Is progressive music in a better state than say five years ago given that
magazines like 'Prog' are available in the High Street and the plethora of
dedicated websites and specialist radio shows?
I don't know how qualified I am to speak on this, as I don't really listen to 'prog' bands a lot.
But it's certainly not such a dirty word anymore, and there certainly seems more interest again…as everything moves in cycles, it would seem.
I believe in general, things come back around musically, but whether that is intentional or not, I have no idea…just seems to be the way that 'older' influences permeate through to the next generation of bands.
After all, there are only so many notes and scales you can use in any particular order…someone is going to have done something similar before.
A few of bands I've spoken to haven't heard bands like Genesis and Yes, citing acts like Muse and Radiohead as their 'progressive' influences…maybe Muse and Radiohead are influenced by older bands?
Who knows…either way, it's a form of 'progressive' music, as it's always pushing on into new territories.
Having the support of dedicated magazines, radio stations and such is an obvious help for bands playing this and it's associated forms of music…in summation, I'd say it's certainly healthier from what we've observed.
Personally, we're very thankful that there are publications like 'Prog' magazine, that have been supportive of us, with some excellent reviews and the great 'Progression 2.0' tour we did in 2010.
We've had some great support online form radio and other webzines…so, we've been very thankful for that.
10. What do you enjoy doing in your time away from music?
All 3 members of the band enjoy doing their own things in their own time…but for the most part, we merely indulge in other forms of music in our spare time…it's a chance to explore new ideas.
We're relatively 'normal' chaps, so we do whatever relatively normal chaps do…like riding basking sharks at night off the coast of Cornwall,  skydiving without parachutes from the ionosphere, farming kelp and soldering our foreheads to circuit boards for giggles…as I said, the  usual, really…
;-)
Anything else to add and a message for your fans…
Thank you for reading this interview and we hope you find time to check out our music.
We're aiming to release a video soon, so keep an eye out for that…and above all…keep supporting live music.
:)
Keep supporting live music and keep supporting your local venues.
Regards,
Ben
(on behalf of Enochian Theory)

---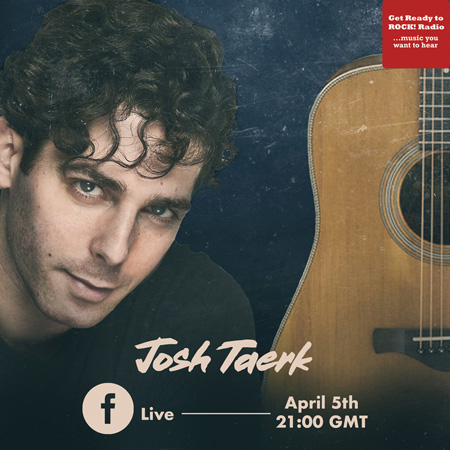 Canadian singer songwriter Josh Taerk plays an exclusive live session via Get Ready to ROCK!'s Facebook page on Sunday 5 April at 21:00 BST (GMT+1)
---
In his show on Get Ready to ROCK! Radio on Sunday 29 March David Randall featured a selection of tracks from "Albums of the Month" (January-March 2020) (29:45)
Listen in to Get Ready to ROCK! Radio…
Click the appropriate icons at the top of the page.

Featured Albums w/c 30 March (Mon-Fri)
09:00-12:00 HARTMANN 15 Pearls And Gems (AOR Heaven)
12:00-13:00 H.E.A.T. II (earMUSIC)
14:00-16:00 GRAHAM GOULDMAN Modesty Forbids (Lojinx)
Power Plays w/c 30 March (Mon-Fri)
LOUISE LEMON Devil (Icons Creating Evil Art )
BLACK ORCHID EMPIRE Winter Keeps Us Warm (indie)
ONE DESIRE Shadowman (Frontiers)
CRYSTAL IGNITE Black Mamba (indie)
PICTURESQUE ATTN: (Rude Records/Equal Vision Records)
SKARLETT RIOT Human (indie)
THE COVASETTES Spin (indie)
---
Tweets by Get Ready to ROCK!
---