Share the post "Gig Review: THE BLACKOUT – Edinburgh 22 January 2013"
I first saw The Blackout a couple of years ago supporting My Chemical Romance at the SECC in Glasgow. That night the guys had the SECC crowd eating out of their hands by the second song, not bad for a support band, especially as the crowd were impatiently waiting for Gerard and co.
The band have continued to make waves and win fans in the intervening two years and this current, low key tour is a chance to introduce their newly released fourth album, 'Start The Party', to the faithful in some up-close and personal shows. Although tonight's show possibly got a bit more up-close and personal than had been planned …
Opening proceedings were Yorkshire electro-rockers, Proxies, who put in a good set. The band blend good indie rock with keyboard flurries provided by Greg, a man who sports possibly the best moustache in rock, a fine waxed affair. The band are unsigned at the moment but on tonight's showing they shouldn't be so for much longer, they certainly warmed the crowd up nicely with their Biffy- like riffs.
Next up were Sonic Boom Six who bounced onstage and didn't stop bouncing through their allotted slot. If you hooked this lot up to the national grid you could power a small village. Their Ska infused rock is infectious and had the crowd dancing along. Frontwoman Laila K has a voice that is an acquired taste, my son likening her to a chipmunk which may be a bit harsh, although she does have a high, piercing voice. It was an entertaining set though which set things up nicely for the night's main event.
If Sonic Boom Six expended enough energy to power a village then The Blackout could power Edinburgh with ease. Kicking off, aptly, with the title track from the new album, 'Start The Party', the band proved to be as lively as ever. The two frontmen, Gavin Butler and Sean Smith, command the front of the stage, taking to their raised platforms and preaching to the crowd.
As the set progressed it proved to be a good mix of new and old with the likes of ' Running Scared' from their latest release sitting comfortably with older numbers, the highlights being ' The Devil Inside' and 'This Is Why We Can't Have Nice Things'.
Halfway through though the set was halted as the Liquid Rooms lived up to their name and sprang a leak from the roof above the stage with water pouring onto the band's backline. The stage was cleared until things were dried up, but it soon became clear the internal rain wasn't for stopping. It was then announced that the rest of the gig would be an acoustic affair held in another, smaller hall at the rear of the venue.
Once the audience had decamped in a chaotic but good natured fashion, the band continued with an amended set list in a totally unplugged fashion. Stripped back to this level the guys could have struggled but they proved to be more than a match for the situation and played a fantastic, intimate acoustic set. After the first number they got the crowd to sit on the floor so everyone could see which added to the atmosphere. The acoustic  guitar work of Matt and James was spot on and it was amusing to watch drummer Snoz playing a tambourine quietly in the corner.
'It's High Tide, Baby', 'Top Of The World' and final number 'Save Our Selves' went down a storm with the crowd providing backing vocals throughout. There were a couple of dissenting voices at the end shouting about the gig being rescheduled, but for the majority they appreciated the guys making the best of the situation and providing a unique gig experience for all in attendance. A night to remember for the fans and band alike.
Review, photos, and interview by David Wilson
Birmingham Institute, 23 January 2013
Didn't they just and give everyone a night to remember. First of all it's worth mentioning this show and tour was put on by Luke Bell. A seasoned pro, who knows the game inside out and tries ensure great shows. This killer line up, was no exception, Proxies, Sonic Boom Six and of course The Blackout.
Unfortunately I arrived too late to catch Proxies, which was a shame not see their set. After these rising lads from Yorkshire, had such an impressive year last year. Laced with illustrious support slots and an impressive series of summer festivals. But as I walk down the corridor, members of the band are having pics taken, with some girl fans. Asking some people inside, the vibe was good and everyone seemed of liked them.
While this stop gap between bands, a chance to take in the venue. The door staff from the off, are warm and friendly, just right for an intimate venue. One of those places where, even if your at the back, your not excluded a good view of the show. It also has a balcony section over the back as well, which you can imagine is busy. The bar is conveniently positioned, to the side of the standing area.
On with the show, as the intro starts and Sonic Boom Six vibrantly bounces on to stage. Instantly greeted by an eager crowd, as they fire up their cross genre splicing and defying sound. Laila Lazer K gets straight into it, pumping up the audience while singing perfectly in key. Laying it down perfectly for Barney, to put down his guitar and join her on vocals for the next number.
This sound and flow is rather unique in music terms. In my opinion I would say, urban rock, electro, pop punk, dance and then some. Performing great set of their barrage of diverse singles. Such as The Road To Hell Is Paved With Good Inventions, For The Kids Of The Multiculture, Virus, Keep On Believing and Karma Is A Bitch. Leaving the placed pumped, they served up an excellent support for The Blackout. You can catch them on their own tour starting on the 8th February all the way through that month.
The crowd erupt with cheers, yells and applause as The Blackout walk on to the stage. They surprisingly go for the juggler, from the off with Start The Party. The whole place explodes as Sean Smith and Gavin Butler, retain perfect vocals. While performing high energy acrobatics and jump around the stage.
Blasting straight into We Live On and still jumping around with mic leads lashing around the stage like bull whips. Hardly even catching their breaths they proceed into Higher And Higher. You can hear fans singing and seeing people jump around, catching the vibe. They continue to play their impressive catalogue of great older tracks with Devil Inside and then I Don't Care. With an immense set of old and new, a further nine tracks. Still holding the high energy performance and great live sound.
Closing their set with I'm A Riot, You're A Fucking Riot and the great single Save Our Souls. In conclusion this was one great show and The Blackout, have land marked their place as heavy weights. If you haven't checked out one of their shows, I strongly recommend you do.
Review by Jeff Oram
Photos by Edward Taylor, Digital Flow
---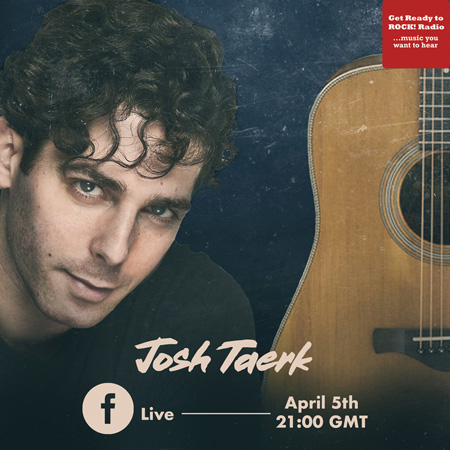 Canadian singer songwriter Josh Taerk plays an exclusive live session via Get Ready to ROCK!'s Facebook page on Sunday 5 April at 21:00 BST (GMT+1)
---
In his show on Get Ready to ROCK! Radio on Sunday 29 March David Randall featured a selection of tracks from "Albums of the Month" (January-March 2020) (29:45)
Listen in to Get Ready to ROCK! Radio…
Click the appropriate icons at the top of the page.

Featured Albums w/c 30 March (Mon-Fri)
09:00-12:00 HARTMANN 15 Pearls And Gems (AOR Heaven)
12:00-13:00 H.E.A.T. II (earMUSIC)
14:00-16:00 GRAHAM GOULDMAN Modesty Forbids (Lojinx)
Power Plays w/c 30 March (Mon-Fri)
LOUISE LEMON Devil (Icons Creating Evil Art )
BLACK ORCHID EMPIRE Winter Keeps Us Warm (indie)
ONE DESIRE Shadowman (Frontiers)
CRYSTAL IGNITE Black Mamba (indie)
PICTURESQUE ATTN: (Rude Records/Equal Vision Records)
SKARLETT RIOT Human (indie)
THE COVASETTES Spin (indie)
---
Tweets by Get Ready to ROCK!
---