Formed back in 2002 and with 4 albums to their name Maryland based Lionize are now gaining the recognition they rightly deserve. Their original blues rock sound, infused with the odd reggae influence, is gaining a wider audience and, with a little help and guidance from their state neighbours Clutch, the band are aiming for bigger things. I caught up with bass player, Henry Upton, for a chat about the current support tour with Clutch, the album and more…
DW – Hi Henry, thanks for taking the time to talk to Get Ready To Rock! today.
HU – It's a pleasure.
DW – For those readers who may be unfamiliar with Lionize could you give us a brief resume of the band's history?
HU –Nate, Chris and I started playing together around 10 years ago. We played house parties, bar gigs, whatever we could book. After touring the Northeast for several years we started to branch out and get opening spots on national tours. We were lucky enough to play with Clutch, Steel Pulse, CKY, Lee Scratch Perry and other great acts. We just stayed on the road, kept writing, and now we feel very fortunate to be making our first trip to the UK.
DW – Over the years Clutch have played a big part in the band's development both as an influence and through direct support. How big a help has this been?
HU – They've helped so much it's kind of hard to quantify. Both artistically and business wise they have been a huge influence. Clutch has developed their band and their career in the right way. We try to emulate that. Tim Sult has played on several of our records. J.P. co-produced "Jetpack Soundtrack" and did nearly a year of pre-production with us. It's difficult to overstate the positive impact they've had. We're very grateful.
DW – On the subject of influences, listening to your music it would appear that you have a wide and varied range of musical influences. Does this come from individual band members' tastes or a collective love of a wide range of styles?
HU –From the beginning we saw eye-to-eye on a lot of different styles of music. Chris has strong jazz and classical background on the keys. Nate exposed me to a lot of reggae I didn't know about. I was listening to mostly funk and hard rock music. But we all loved everything and were eager to find a way to synthesize all of that and find our own voice.
DW – Your 4th album, Jetpack Soundtrack, how has it been received?
HU –The reception has been overwhelmingly positive. We are very proud of the record. I think it's the best one we've made. To have such a great reaction has been really validating. Especially in the UK where we've only just started to tour.
DW – The album was co-produced by Clutch's own Jean–Paul Gaster, did he offer or did you have to persuade him to get involved?
HU –J.P. had thrown his hat into the ring for pre-production and was very generous with his time. We loved working with him and the results were so exciting that we brought up the idea of co-producing with Machine. Lucky for us they were both into the idea and it worked swimmingly.
DW – You are now on the road in support of the album, how have the gigs been going so far?
HU –Really incredible. The crowds seem really hungry for live music. Definitely living up to their reputation as great folks to perform for.
DW – Are you hoping that this tour will give you a foothold in the UK, do you view the UK as an important market for the band?
HU – Very much so. Obviously, we hope that people dig what we are doing and want us to come back. Hopefully it's the first of many Lionize tours in the UK.
DW – The first step is getting people interested in your music, what would you say to encourage someone to take the first step and give the band a listen?
HU – We don't sound like anyone else. We do our own thing. It's not auto-tuned. There are no pre-recorded tracks. It's live rock music with no real boundaries on where we can take it.
DW – After this tour I believe you are hitting the road in the US as part of the Warped Tour, are you looking forward to that?
HU – Warped Tour was a blast when we did it in 2011. Kind of like summer-camp with beer. Definitely excited to get out there again. Bring sunscreen, kids.
DW – Many thanks for the chat and all the best with the tour.
Interview by David Wilson
---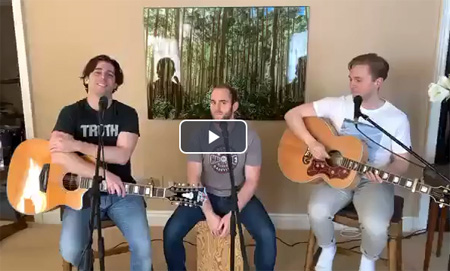 Check out Canadian singer songwriter Josh Taerk and his exclusive live session via Get Ready to ROCK!'s Facebook page
---
In his show on Get Ready to ROCK! Radio on Sunday 29 March David Randall featured a selection of tracks from "Albums of the Month" (January-March 2020) (29:45)
Listen in to Get Ready to ROCK! Radio…
Click the appropriate icons at the top of the page.

Featured Albums w/c 30 March (Mon-Fri)
09:00-12:00 HARTMANN 15 Pearls And Gems (AOR Heaven)
12:00-13:00 H.E.A.T. II (earMUSIC)
14:00-16:00 GRAHAM GOULDMAN Modesty Forbids (Lojinx)
Power Plays w/c 30 March (Mon-Fri)
LOUISE LEMON Devil (Icons Creating Evil Art )
BLACK ORCHID EMPIRE Winter Keeps Us Warm (indie)
ONE DESIRE Shadowman (Frontiers)
CRYSTAL IGNITE Black Mamba (indie)
PICTURESQUE ATTN: (Rude Records/Equal Vision Records)
SKARLETT RIOT Human (indie)
THE COVASETTES Spin (indie)
---
Tweets by Get Ready to ROCK!
---