Share the post "Album review: WILLY DeVILLE – Live at Rockpalast 1995 & 2008"
Repertoire [Release date 26.01.15]
'Live at Rockpalast 1995 & 2008' is a triple CD and DVD release that finds Willie DeVille revisiting his back catalogue on two shows recorded 13 years apart and presented back to front.
Surprisingly, the early 1995 DVD is more relaxed than the 2008 show, even though the band features the blazing sax of Eddy Mandion.
Both concerts are built on potent percussive grooves and wide ranging material routed in Americana, blues, R&B, country and white boy soul music, stretched to include Cajun, Tex-Mex and other Latino influences that reflect his Basque heritage. There's also an ever present southern feel that reflect his time in New Orleans.
The combination of his wide spread musical appeal and his own performance gently beguiles and ensures that he's got the crowd on his side by the end of both concerts.
'You Got The World In Your Hands' for example, is a subtly layered song shaped by some aching slide and deft percussion and benefits from a gentle fade that draws the crowd in.
'Demasiado Corazon' – ('Too Much Heart') – is another early career Latino song well suited to the 2008 band's musical versatility.
Willy knows the value of a grand gesture and the weight of a lyric and when that doesn't quite work, he shouts encouragingly at the crowd to focus on the sense of occasion.
He's one part Dylan, one part a Tex-Mex troubadour who is never too far away from his own New Orleans gumbo, while his early career material reaches back to new wave era of CBGB's where he made his name.
The two CD's offer a cross section of a career too often eclectic for the British market – albeit 'Spanish Stroll' gave him a hit there – but colourful enough to attract a big following in France and Spain.
He's a decent writer, with a world view, even if his voice sometimes sounds harsher than late career Dylan.
The 2008 band warms up with Herbie Hancock's 'Watermelon Man' before Willy strolls on with backing singer Yadonna West to add cracked phrasing on the atmospheric 'Loup Garou', full of Mark Newman slide guitar and the ever present percussionist Boris Kinberg who anchors the bottom end.
'So So Real' sounds like a hoarse Dylan and he switches to harp on the Latino influenced 'Chieva' and the bewitching 'Spanish Stroll', which deservedly earns a big reaction from the crowd.
His raspy vocals on 'Muddy Waters Rose Out of the Mississippi Mud' sounds like Johnny Winter, as does the slide-led 'White Trash Girl'
He explores Tex-Mex on a fine reprise of the fine '95 version of 'Heart And Soul', with Kenny Margolis switching from keys to accordion, while a Mariachi style 'Hey Joe', complete with a Spanish count-in, goes some way to explaining its popularity in Spain and France.
He's back in Mink DeVille mode on the early career 'Savoir Faire' with a hint of new wave and punk on the chorus.
He rocks out on 'Cadillac Walk' as the 2008 band offers subtle support in sharp contrast to his own raspy vocals and the bombastic ending, while 'Mixed Up, Shook Up Girl' has hints of Springsteen on a Latino arrangement.  ***
DVD 2 features his multi instrumental '95 band with Eddy Mandion on sax and Freddy Koella on guitar, violin and mandolin, as the elegantly dressed, pony tailed Willy launches into an early set 'Steady Drivin' Man'.
He's a white boy soul singer on the impressive 'I Can Only Give You Everything', which could easily be Southside Johnny. He also steps to the lip of the stage to play the kind of big slide figure on the strong Tex-Mex harmonies of 'Heart And Soul', that he leaves to Newman in the 2008 band.
Eddie Bo's 'Every Dog Got His Day' fits well, but sounds like a filler, though the ska influenced 'Angel Eyes' does bring an uplifting feel to the set.
Only his indefatigable stage presence helps him overcome the forgettable soul ballad 'Key To My Heart' and the schmaltzy spoken word intro and sonorous violin line of 'Heaven Stood Still'.
The rest of the set revisits familiar fare, though he curiously omits 'Lilly's Daddy's Cadillac', as the set moves towards the slide and climactic sax finale of 'Spanish Stroll'.
Willy's voice just about survives another Latino 'Hey Joe' before a predictable, but crowd pleasing bluesy finish.
If Willy DeVille's material isn't quite strong enough to make both shows memorable, he effortlessly proves that a charismatic performer with a good band and a dash Latino can go a long way in showbiz.  ****
Review by Pete Feenstra
Pete Feenstra presents his Rock & Blues Show on Get Ready to ROCK! Radio every Tuesday at 19:00 GMT, and "The Pete Feenstra Feature" on Sundays at 19:00
---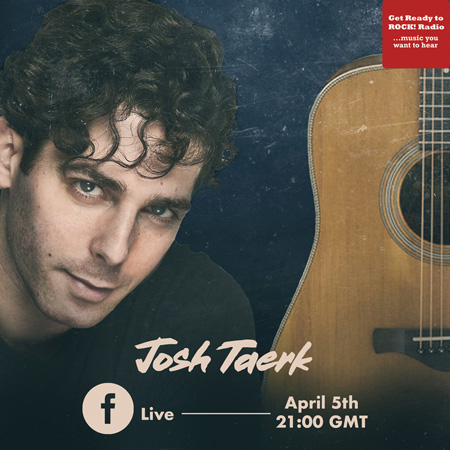 Canadian singer songwriter Josh Taerk plays an exclusive live session via Get Ready to ROCK!'s Facebook page on Sunday 5 April at 21:00 BST (GMT+1)
---
In his show on Get Ready to ROCK! Radio on Sunday 29 March David Randall featured a selection of tracks from "Albums of the Month" (January-March 2020) (29:45)
Listen in to Get Ready to ROCK! Radio…
Click the appropriate icons at the top of the page.

Featured Albums w/c 30 March (Mon-Fri)
09:00-12:00 HARTMANN 15 Pearls And Gems (AOR Heaven)
12:00-13:00 H.E.A.T. II (earMUSIC)
14:00-16:00 GRAHAM GOULDMAN Modesty Forbids (Lojinx)
Power Plays w/c 30 March (Mon-Fri)
LOUISE LEMON Devil (Icons Creating Evil Art )
BLACK ORCHID EMPIRE Winter Keeps Us Warm (indie)
ONE DESIRE Shadowman (Frontiers)
CRYSTAL IGNITE Black Mamba (indie)
PICTURESQUE ATTN: (Rude Records/Equal Vision Records)
SKARLETT RIOT Human (indie)
THE COVASETTES Spin (indie)
---
Tweets by Get Ready to ROCK!
---