Share the post "Album review: THE APOCALYPSE BLUES REVUE – The Apocalypse Blues Revue"
Provogue [Release date 26.08.16]
The Apocalypse Blues Revue is a back to the basics, heavy-duty, blues-rock project anchored by Godsmack drummer Shannon Larkin and guitarist Tony Rombola.
The band features baritone vocalist Ray "Rafer John" Cerbone who sounds like a cross between Jim Morrison and Monster Truck's John Harvey.
The Morrison fixation is self evident throughout and finally fully reveals itself on the bonus track version of The Doors 'When The Music's Over'.  The inclusion of such a familiar track presumably aims to give the band access to a potentially wider market, but it might also hamper their efforts to nail their own style.
'The Apocalypse Blues Revue' certainly has all the salient elements in place to make a splash, from an arresting vocalist to the band's intense rocking and a conceptual approach that is two steps removed from Black Sabbath.
They are a tight unit who on the best track 'The Tower', suggest that they might just have something new to bring to a well worn template. You can feel the power, the unremitting energy and the collective reach of a band searching for something special.
At their best, their brand of power rock-blues makes a primal connection with the listener, but it lacks originality and needs better hooks and lyrical depth.
The album's songs are predicated on the recycled imagery of the devil, drugs, liquor and bad women, and such a shallow embrace of the blues isn't going to take them much beyond biker festival territory.
At times they sound like a seasoned,  road tested band who have met a singer that offers them new possibilities. And while overlooking the fact that this is presumably a side project, they don't have strong enough material yet to break to a potentially bigger audience.
The pro's and cons are self evident on the aptly titled 'Work In Progress' which mirrors the band's progress so far. The booming rhythm track is subsumed by a sledgehammer arrangement, before it's rescued by a fleeting wah-wah break.
The album starts promisingly enough, with the lilting bass-led shuffle of 'Evil Is As Evil Does' which shoehorns us into some familiar rock-blues territory and gives guitarist Tony Rombola an early opportunity to shine. The sludgy 'Junkie Hell' is blighted by lyrics that might have sound clichéd back in the 70's, were they not autobiographical. This is clearly a band who realise if you're going to sing the blues,  you might as well dwell on personal experience.
If the above is the stuff of a biker bar band, then 'Devil Plays A Strat' is equally retro, being a homage to the Charlie Daniels classic 'The Devil Went Down To Georgia'.
'I Think Not' features another Jim Morrison style vocal over some sinewy guitar, but lacks a decent hook to resolve a smoking blues, while 'Whiskey In My Coffee' opens with a big Dick Dale style twang shuffle, as Rombola's nifty guitar work overshadows some rudimentary lyrics.
You suspect many of these songs are powerful enough to morph into live favourites, but they don't all survive extended scrutiny, as they sometimes lack the depth that their bluster otherwise suggests.
The album does have some sparkling moments though, especially on 'The Tower'. Cerbone's vocal effortlessly matches Rombola and guest guitarists Eric Gales's efforts on a track that is allowed to breathe and develop into a mighty groove.
The band's power, passion, and riffing ability on this track is everything you could wish for and sets a standard they could do well to emulate in the future.
Tony Rombola extends his riffing and unleashes some magical guitar on the pretentiously titled 'Crossed Over', as the drum tight rhythm section of Shannon Larkin and bassist Brian Carpenter pushes him to the max.
The track also extends the album's underlying fascination with dark imagery, but it lacks a substantive narrative to warrant the title and is another example of some sparkling playing in search of a better song.
'The Devil In Me' is a tension building drone on which Rombola's gnawing lead portentously weaves in and out of the track, while Cerbone brings real presence to bear on the brooding 'Blue Cross'. The latter is another example of how the band sounds more self assured when they let the groove take over.
The Apocalypse Blues Revue is a promising debut by a powerhouse band, but they might need stronger material to realise their rock/blues crossover potential ***½ 
Review by Pete Feenstra

---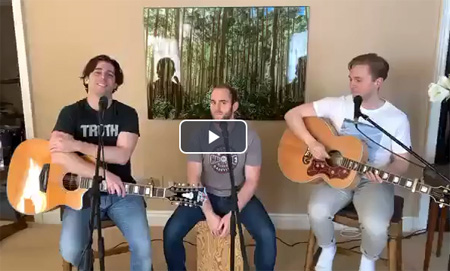 Check out Canadian singer songwriter Josh Taerk and his exclusive live session via Get Ready to ROCK!'s Facebook page
---
In his show on Get Ready to ROCK! Radio on Sunday 29 March David Randall featured a selection of tracks from "Albums of the Month" (January-March 2020) (29:45)
Listen in to Get Ready to ROCK! Radio…
Click the appropriate icons at the top of the page.

Featured Albums w/c 30 March (Mon-Fri)
09:00-12:00 HARTMANN 15 Pearls And Gems (AOR Heaven)
12:00-13:00 H.E.A.T. II (earMUSIC)
14:00-16:00 GRAHAM GOULDMAN Modesty Forbids (Lojinx)
Power Plays w/c 30 March (Mon-Fri)
LOUISE LEMON Devil (Icons Creating Evil Art )
BLACK ORCHID EMPIRE Winter Keeps Us Warm (indie)
ONE DESIRE Shadowman (Frontiers)
CRYSTAL IGNITE Black Mamba (indie)
PICTURESQUE ATTN: (Rude Records/Equal Vision Records)
SKARLETT RIOT Human (indie)
THE COVASETTES Spin (indie)
---
Tweets by Get Ready to ROCK!
---