Share the post "Gig review: ELECTRIC BOYS – Camden Underworld, London, 4 December 2017"
When funk rock and metal was all the rage for a brief period at the turn of the nineties, the Electric Boys rode that zeitgeist very effectively with their debut album 'Funk' o' Metal Carpet Ride', allied to a striking psychedelic image, and it remains their signature work to this day.
However in 1992, with the musical sands already shifting, their sophomore album 'Groovus Maximus' was less of a critical and commercial success. However, on a personal level, having never grasped the funk rock scene at the time, this album was a revelation, those initial influences now allied to a tougher sound pitched firmly in a classic retro seventies style, somewhere between vintage Aerosmith and Mark IV Deep Purple.
So when I arrived at the Underworld to see posters that this tour was commemorating the album's 25th anniversary, I arrived with added expectation. I realise this may be a minority view among Electric Boys fans, but a poor turnout barely into three figures was perhaps more a reflection of it being a Monday night in an ever more crowded winter gig calendar, than people being picky about the setlist.
The album's closer 'March Of The Spirits' is often used as an intro tape, but this time we got a full live version, a brave move as few bands this side of Wishbone Ash would see fit to open with an instrumental. The title track and 'Knee Deep In You' have been live staples ever since the Boys reformed nearly a  decade ago but the crunchy yet danceable riffs perfectly summed up the album's appeal.
They also showcased the effective guitar partnership between Conny Bloom and Franco Santunione. The latter, a rather shadowy figure in shades and showing little emotion, lays down a solid groove with his chunky chords and riffs, allowing the curly-haired frontman, who still radiates a laconic rock star charisma, greater freedom to unleash some fluid, psychedelic-tinged solos in quite an original style. They were well supported by the rhythm section of Andy Cristell and Niklas Sigevall who brought a Viking-esque primal power to his drumming to make quite a formidable unit.
The rarely played 'When Love Explodes', with a rather Dan Reed Network-esque refrain, was the first conclusive proof that the whole album was likely to be played. Indeed after another well-established favourite with people singing along to 'Mary In The Mystery World', came a series of numbers such as 'Fire In The House' that can rarely, if ever have been played live.
Sometimes a classic album in its entirety can be difficult to digest but the set pacing was clever with some mid-set improvisation and jamming during 'Bed Of Roses' as the pair traded solos and 'The Sky Is Crying' with audience participation. Preceded by a touch of 'Tambourine', 'Tear It Up' had a swaggering riff and Conny's harmonica playing added to the hard-edged blues feel, prior to momentarily taking things down with the ballad 'Dying To Be Loved', slightly too close for comfort to the Quireboys' 'I Don't Love You Anymore'.
Then they picked up the pace with the more uptempo and instant numbers, the cheeky 'Bad Motherfunker' harking back to the style of the debut and 'She's Into Something Heavy'  boasting a colossal chorus.
Choosing to play the whole of an album meant their other career highlights had to be squeezed into a three song encore and – after Conny teased us with snatches of Frank Zappa and Rush –  'Electrified' saw his and Franco's guitars locked into a hypnotic groove which invited those Aerosmith comparisons. There was then a surprise in a brand new single 'Dishes' which rocked in lively fashion though the chorus line 'I ain't gonna do the dishes any more' would win no awards for gender equality.
There was an inevitability though that the old dance floor filler 'All Lips n Hips' would close out the set, with Conny holding his mic out to fans at the front and even inviting them to play his guitar, while the band improvised a new outro which showed off their musicianship and neatly brought the gig full circle.
It was an unusual setlist, which might not have been to everyone's taste, yet as well as a reminder of what an underrated live act the Electric Boys are, the evening was a stimulating chance to revisit their lesser-known masterwork.
Review and Photos by Andy Nathan

---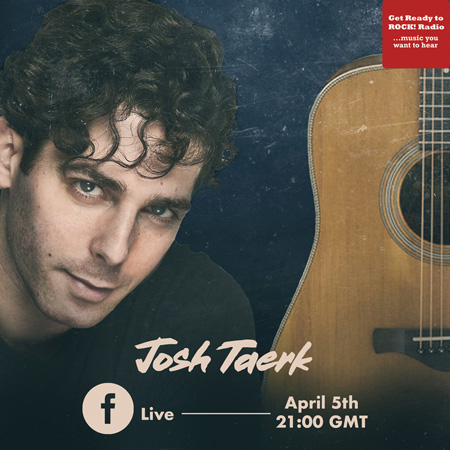 Canadian singer songwriter Josh Taerk plays an exclusive live session via Get Ready to ROCK!'s Facebook page on Sunday 5 April at 21:00 BST (GMT+1)
---
In his show on Get Ready to ROCK! Radio on Sunday 29 March David Randall featured a selection of tracks from "Albums of the Month" (January-March 2020) (29:45)
Listen in to Get Ready to ROCK! Radio…
Click the appropriate icons at the top of the page.

Featured Albums w/c 30 March (Mon-Fri)
09:00-12:00 HARTMANN 15 Pearls And Gems (AOR Heaven)
12:00-13:00 H.E.A.T. II (earMUSIC)
14:00-16:00 GRAHAM GOULDMAN Modesty Forbids (Lojinx)
Power Plays w/c 30 March (Mon-Fri)
LOUISE LEMON Devil (Icons Creating Evil Art )
BLACK ORCHID EMPIRE Winter Keeps Us Warm (indie)
ONE DESIRE Shadowman (Frontiers)
CRYSTAL IGNITE Black Mamba (indie)
PICTURESQUE ATTN: (Rude Records/Equal Vision Records)
SKARLETT RIOT Human (indie)
THE COVASETTES Spin (indie)
---
Tweets by Get Ready to ROCK!
---