Mascot Records [Release date 14.06.19]
Dutch rock band De Wolff is a contemporary cross-genre band who tap into the moment to produce a varied, but coherent live album with plenty of innovation and spark.
Variously described as retro rockers and a psychedelic, southern rock influenced jam band, De Wolff explore all those elements and more.
Even when they unexpectedly veer into the country-tinged 'Outta Step & Ill At Ease' – complete with harmony guitars – it works as an essential pause for breathe in an otherwise intense album.
De Wolff is a supremely confident band who cleverly explore subtle dynamics and musical virtuosity that will appeal to Gov't Mule fans.
This is especially so on the extended 'Deceit & Woo'. as a funky bass line propels them forward with Pablo's rapped out vocal, before a sudden jagged tempo change and an exclamatory tension breaking ad lib: "sock it too me".
The combination of guitar and Moog sounding squalls finds the band pushing their extemporizing to the max on ten minutes that defines their style in a live album context.
De Wolff bide their time, as part of a tacit unspoken relationship with their audience, who expects nothing less than innovative boundary pushing music, even if it does extend to an unnecessary drum solo that adds little to the above track.
But hey, they is a democratic band who dutifully record what went down on the night.
'Tired Of Loving You' has a similar retro feel with influences as diverse as Zeppelin and The Doors on a bluesy influenced track with proggy edges which sounds familiar yet is new. Pablo van de Poel's spiky guitar lines slash through the track, before Robin Piso adds some tension building cool that is finally resolved by a big Hammond solo over an ebullient drum pattern.
This is arguably the anchor track of a far reaching album on which the band muscularly forge their own style.
De Wolff is the perfect meeting of retro and contemporary influences. Their music is based on old school musical values, cloaked in contemporary notions of the jam band scene with psychedelic edges.
They open with a backdrop of electronic squalls and supportive crowd whistles, on 'Big Talk' a proggy guitar and keyboard-led groove.
Vocalist Pablo van de Poel vocal serves to break the ice as he evokes Robert Plant, Prince and Greta Van Vleets's Josh Kiszka, before a cool Grateful Dead style drop-down full of piercing notes and crisp cymbal work. It's in quiet moments like this that the band displays their understated confidence to simultaneously make a musical statement while holding the audience.
Minutes after opening the show they dive into some cool dynamics that segues mellifluously into the sinuous guitar line of 'Sugar Moon', in a style similar to 70′s band Nektar
De Wolff is the glorious sum of its parts, especially with Piso's integral organ work on 'Sugar Moon', as the band connects with the crowd in a sing-along that reminds us that this is indeed alive album.
They veer into a more bluesy direction on the stripped down 'Medicine', to focus on Pablo's voice and crisp guitar lines.  Luka's initial languid Hammond break leads to an uplifting sweep as the trio builds a huge undulating wall of sound,
De Wolff often take the long road to build things up in an unhurried way. They lean into a groove to enhance the melody of a piece with virtuosity that somehow remains loyal to the song
They also groove on 'Tombstone Child', while taking in a quiet-to-loud dynamic topped by West Coast sounding harmonies. They up the tempo on the intro to 'California Burning', before settling into a Jerry Garcia influenced guitar break that could be the Grateful Dead.
And its their West coast jam band feel and a timeless Dutch proggy thread that gives the band it's unique flavour.
They sharpen their focus on the organ-led 'Share The Ride', with more West Coast harmonies, an understated funky feel and some lovely jammed out interplay that illuminates the band's strengths.
Everything flows articulately almost in spite of the time changes and extended solos. They build up a closing momentum with the sleaze rock influenced 'Double Crossing Man,' which sounds like an early 70′s outtake, to the tightly wrapped 'Love Dimension', complete with bv whoops which punctuate a jammed out finish.
This album doesn't quite live up to its title as being 'Live & Outta Sight 11′, simply because it doesn't quite have the songs to merit that claim. But there's more than enough musical inspiration here to fulfil their cross genre aspirations. ****
Review by Pete Feenstra
---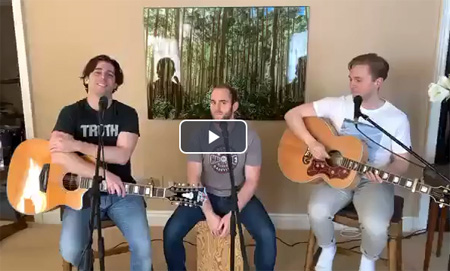 Check out Canadian singer songwriter Josh Taerk and his exclusive live session via Get Ready to ROCK!'s Facebook page
---
In his show on Get Ready to ROCK! Radio on Sunday 29 March David Randall featured a selection of tracks from "Albums of the Month" (January-March 2020) (29:45)
Listen in to Get Ready to ROCK! Radio…
Click the appropriate icons at the top of the page.

Featured Albums w/c 30 March (Mon-Fri)
09:00-12:00 HARTMANN 15 Pearls And Gems (AOR Heaven)
12:00-13:00 H.E.A.T. II (earMUSIC)
14:00-16:00 GRAHAM GOULDMAN Modesty Forbids (Lojinx)
Power Plays w/c 30 March (Mon-Fri)
LOUISE LEMON Devil (Icons Creating Evil Art )
BLACK ORCHID EMPIRE Winter Keeps Us Warm (indie)
ONE DESIRE Shadowman (Frontiers)
CRYSTAL IGNITE Black Mamba (indie)
PICTURESQUE ATTN: (Rude Records/Equal Vision Records)
SKARLETT RIOT Human (indie)
THE COVASETTES Spin (indie)
---
Tweets by Get Ready to ROCK!
---