Share the post "Gig review: PETER FRAMPTON – Red Rocks Amphitheater, Colorado, USA, 31 July 2019"
2019 has been a year of the farewells of many of the legends of classic rock. Already this year, I've seen UFO, Lynyrd Skynyrd and Kiss perform for (presumably) the final time in the UK and do their legacy proud.
One of the saddest stories is that of Peter Frampton's, the guitarist going on a farewell tour while the going is still relatively good as a progressive muscular disorder begins to weaken his body.
The tour hasn't hit his UK birthplace, yet, but a family trip to the USA was an ideal opportunity for me to kill two birds with one stone, catching his farewell tour and doing so in one of the world's most legendary and unique music venues, the natural Amphitheatre of Red Rocks, nestling between the mountains of Colorado to the West of Denver.
It is also fully exposed to the elements, and though daytime temperatures were in the nineties, thunderstorms meant that entry was temporarily suspended and we sought cover in the overhang of one of the rocks.
More seriously, there was over an hour's delay before support Jason Bonham was able to play. When not playing in Sammy Hagar's The Circle, his main role these days is as keeper of his Dad's Led Zeppelin legacy, his powerful drumming and genial personality the driving force behind a band that, in a crowded market, does decent justice to their catalogue.
This time his set was limited to 35 minutes, with the 50th anniversary of 'Led Zeppelin II' reflected in the setlist. One such, 'Whole Lotta Love', together with 'Rock and Roll', formed a lively closing duo with guitarist Jimmy Sakurai pulling some very entertaining shapes.
Following a recorded message from him asking us to put phones away and enjoy the set, and a career-spanning montage of photos, the real Peter Frampton then took the stage with his band opening with 'Baby (Something's Happening)' and most of the crowd would not have been human if our first reaction was not to inspect for any evidence of physical decline.
Fortunately, other than the stooping walk which has been characteristic for a number of years, there was none, even though on 'Lying' (from my first exposure to him in 1986's 'Premonition') his spectacular lead guitar work made up for the fact he was delivering the lyrics, as is his wont sometimes, in semi-spoken fashion.
After 'Lines On My Face' did rather outstay its welcome, the show needed a more up tempo lift which was provided by 'Show Me The Way' with people taking to their feet and the first appearance of his trademark talk box.
There were two main differences from past Frampton shows I have witnessed. Reflecting the farewell nature of the tour, one was that the anecdotes and stories behind the music, delivered with his trademark dry humour, were longer and more frequent.
The other was that a stale setlist that is always based around 'Comes Alive' was given a shake up, and indeed he mentioned that the set was being slightly varied night by night to reward those fans following him around the USA for more than one show.
On this occasion there were a couple of songs I was unfamiliar with in 'The Lodger' and 'Breaking All The Rules'. The former was rather unconventional but featured some fine interplay between Peter and keyboardist Rob Arthur, while the latter was an absolutely storming rocker with a riff reminding me of the Stones 'Bitch', complete with a zany period video which screamed 'early days of MTV'.
In a late flurry of creativity he has recorded a blues album as the first of a series, and it was prominently featured mid set with an instrumental take on 'Georgia On My Mind' and a pair of Chicago-style blues in the jaunty 'Me And My Guitar' and the slower 'Same Old Blues'.
It was proof that, if he may lack a signature guitar sound, one of the South Londoner's virtues has been his versatility in playing a variety of styles. Another came when he donned an acoustic for 'All I Wanna Be Is By Your Side' and the instrumental 'Penny For Your Thoughts'.
Many of the stars referenced in his anecdotes are no longer with us, making his version of 'Black Hole Sun' – instrumental other than singing the chorus into the talk box – even more poignant than usual, while 'I'll Give You Money' saw some humorous vocal improvisation and a lengthy jam as he and second guitarist Adam Lester traded lines.
Unfortunately at that point the heavens re-opened, albeit only briefly, and a significant minority gave up the unequal struggle and headed for the exits.
That seemed to me a short-sighted attitude, since we were moving into the crowd pleasing section with 'Baby I Love Your Way', preceded by a lengthy anecdote about meeting Alvin Lee in the Bahamas, and the biggest cheer of the night went up for the intro to 'Do You Feel Like We Do'.
This has always been a live marathon, and with the talk box and jamming between him, Adam and Rob, the stopwatch tipped 17 minutes. It was a good job that there were no residents in the vicinity and therefore no curfew to enforce.
Throughout he was visibly taken aback by the love shown from his fans and said that if anything could cure him, their response could. At the start of the encore, he shouted 'how about some Humble Pie' though they slipped in 'Live With Me', Rob and Adam sharing vocals with him, before the one I was expecting in a stonking 'I Don't Need No Doctor', although broken up by a keyboard solo and more jamming, taking the set to a marathon 2 hours and 20 minutes.
History may judge that we underestimated Peter Frampton, who deserves to be remembered for more than the mass of curls and cheesy grin dominating one of the most famous double live albums of all time.
On this bittersweet evening, he was on top form with a musical catalogue that, allied to his fund of stories, constituted a fitting requiem – at least as a live artist – for the Beckenham boy.
Review and photos by Andy Nathan

---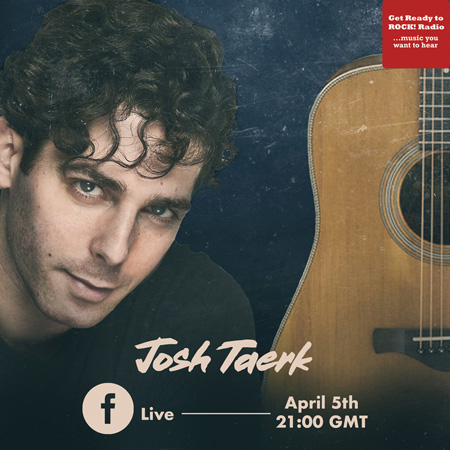 Canadian singer songwriter Josh Taerk plays an exclusive live session via Get Ready to ROCK!'s Facebook page on Sunday 5 April at 21:00 BST (GMT+1)
---
In his show on Get Ready to ROCK! Radio on Sunday 29 March David Randall featured a selection of tracks from "Albums of the Month" (January-March 2020) (29:45)
Listen in to Get Ready to ROCK! Radio…
Click the appropriate icons at the top of the page.

Featured Albums w/c 30 March (Mon-Fri)
09:00-12:00 HARTMANN 15 Pearls And Gems (AOR Heaven)
12:00-13:00 H.E.A.T. II (earMUSIC)
14:00-16:00 GRAHAM GOULDMAN Modesty Forbids (Lojinx)
Power Plays w/c 30 March (Mon-Fri)
LOUISE LEMON Devil (Icons Creating Evil Art )
BLACK ORCHID EMPIRE Winter Keeps Us Warm (indie)
ONE DESIRE Shadowman (Frontiers)
CRYSTAL IGNITE Black Mamba (indie)
PICTURESQUE ATTN: (Rude Records/Equal Vision Records)
SKARLETT RIOT Human (indie)
THE COVASETTES Spin (indie)
---
Tweets by Get Ready to ROCK!
---