Magnum in the Millennium
Introduction
The Studio Albums
The Live Albums
Singles
Reissues
Collections
Memorabilia
What Magnum Means To Me…
WHAT MAGNUM MEANS TO ME …
Sweep away almost 40 blurry years of rock/metal memories and I see a picture coming into focus around a few pivotal moments in 1983.
As a 16 year old lad growing up in nice-but-dull rural Yorkshire, rock n roll influences came in odd shapes and sizes: A new neighbour from 'down south' played me a 12" version of UFO's 'Let It Rain'; a mate came back from Florida with an already old copy of Journey's 'Escape'; and I picked up a cassette of Magnum's 'The Eleventh Hour' in the Woolworth's bargain bin because I liked the cover. Gateway listening events, all three. I never looked back.
That 'The Eleventh Hour' should end up in the clearance section so quickly would have seemed like a travesty after the band's 1982 album 'Chase The Dragon' had cracked the UK top 20. Lack of record company support was partly blamed, but even now reviewers do not look fondly on the album.
Of course, I knew none of this. As an impressionable teenager I loved it all. The orchestral majesty of 'The Prize', the haunting piano and lyric of 'The Word'; and the galloping drive of 'Hit And Run' stood out. And the folky weft of 'Breakdown' and the pomp-overdose chorus of 'Road To Paradise' were fertile new experiences for me.
'On A Storyteller's Night' was in a different league though. Once again I bought the cassette, but there was no hint of bargain basement about this release. It remains an almost perfect mix of the epic and the pop rock. The production was warm, clear and balanced; and that classic Rodney Matthews cover art invited us all to take a conspiratorial seat round the table.
I saw Magnum on that tour. December 1985. The first of many nights spent in company of this fine band. The atmosphere in Hanley Victoria Hall was electric.
The intro to opener 'How Far Jerusalem' gave me goosebumps (it still does now) and I fell over in the stomp when the guitar and drums kicked in. The gig passed in a blur, but the way that Bob Catley gave life to Tony Clarkin's lyrics for tracks like 'Les Morts Dansant' and 'All England's Eyes' through dramatic expression struck home with this receptive young man.
A few years later, I had moved to London, and was still consuming Magnum's by-then big selling albums and tours regularly. I took my girlfriend to see them at Hammersmith Apollo. She had only vaguely heard of the band. I felt like I was revealing to someone a precious, deeply held secret. We had good seats near the front. It was a great gig.
Afterwards, the future Mrs A said that she was in awe that everyone in the crowd was belting out every word to every song 'like an extended family'. That's how it felt in those days.
I've continued to enjoy Magnum albums since their reformation in 2002. And gigs too. The last time I saw them was at the Ramblin' Man Fair in 2017. The fans were still singing everything.
From their first song 'Soldier Of The Line' myself and those around me gave full-throated respect to the lyrics until the last emotional chorus of the encore, 'When The World Comes Down' had faded away.
Bob Catley's animated jazz hands, gestures and semaphore signals were still going strong as he orchestrated the big crowd, maybe taking the odd liberty with the actual phrasing of the lyrics. No-one cared.
Magnum have been there for me, in one shape or form, all my adult life. They still don't play much off 'The Eleventh Hour' though. Maybe those reviewers were right.
Favourite tracks:
1.  How Far Jerusalem (On A Storyteller's Night, 1985)
2. Les Morts Dansant (On A Storyteller's Night, 1985)
3. Lonely Night (Vigilante, 1986)
4. The Word (The Eleventh Hour, 1982)
5. Wild Swan (Wings Of Heaven, 1988)
Dave Atkinson

Magnum in the Millennium
For many years Magnum have been affected by a number of unofficial compilations and reissues, releases for which they derive no income.  If frustrating for the band it has provided fans with snapshots of their earlier career and in some cases rare material.
With regard to video releases, there has been endless recycling of their Camden Palace, London gig in 1985 and the Christmas gig at Birmingham Town Hall in 1992.  The only "new" video releases during our period are  'Livin' The Dream' (2005) which celebrates the band's 'Storyteller's Night 25th Anniversary Tour' and 'Wings Of Heaven Live' (2010).
During Get Ready to ROCK!'s ascendancy, we have reviewed several official releases which bring together collections of songs from all periods of the band's history.  In some cases these have been re-recorded with new guitar or keyboard parts or at the very least remastered.  They are usually put together at the behest of the record label.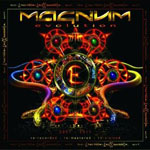 2011 – Evolution ****
"Some of this may seem a tad unnecessary but it does remind you of just how good the more recent material is, especially when most compilations focus on the 80s era."
Recommended: 'When We Were Younger'
2017 – The Valley of Tears  The Ballads ****
"More than anything, 'The Valley of Tears' attests the band's versatility, Bob Catley's vocal sensitivity and Tony Clarkin's way with a song.  The ballads album might only be topped by Magnum with a full symphony orchestra.  Now that would certainly pluck the (heart) strings"
Recommended: 'When The World Comes Down (live)'
2021 – Dance Of The Black Tattoo ***1/2
"Thought of as a companion to the earlier 'Ballads' release, Clarkin has plundered 14 of the back catalogue and served up on heavy duty magenta vinyl with printed inner sleeves and a Rodney Matthews cover.  It could almost be 1982."
Recommended: 'No God Or Saviour'
Note: This release includes several tracks that originally appeared on previous bonus DVDs.
Great songs and great musicians.  Very funny too! Made me larf!
Loudest band I've ever played with, to be honest.
Harry James, drums (2002-2017) 2003
Also reviewed
Here are two significant compilations released since 2000 and reviewed at GRTR!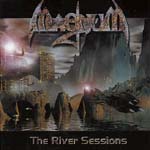 The River Sessions (River Records, 2004) ****
"Rewind to an early Scottish summer in 1985, and Magnum were on stage at the Mayfair in Glasgow and, thankfully, the Radio Clyde mobile was parked round the corner…At the time, Magnum's classic 'Storyteller's Night' album had just been released and this gig featured on the promotional tour"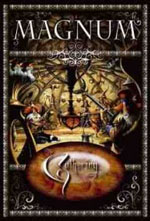 The Gathering (5-CD, Sanctuary/Universal, 2010 ) ****1/2
"A live/studio/rarities career spanning collection and long overdue it is too. And although it is fairly comprehensive, it is far from being definitive." 
---
Introduction
The Studio Albums
The Live Albums
Singles
Reissues
Collections
Memorabilia
What Magnum Means To Me…

---
Josh Taerk's latest Sunday Session was streamed on Sunday 17 July.
Check out previous videos here:
https://www.facebook.com/getreadytorockradio
---
David Randall presents a weekly show on Get Ready to ROCK! Radio, Sundays at 22:00 GMT, repeated on Mondays and Fridays), when he invites listeners to 'Assume The Position'. This show was first broadcast on 31 July 2022.
UK Blues Broadcaster of the Year (2020 and 2021 Finalist) Pete Feenstra presents his weekly Rock & Blues Show on Tuesday at 19:00 GMT as part of a five hour blues rock marathon "Tuesday is Bluesday at GRTR!". The show is repeated on Wednesdays at 22:00, Fridays at 20:00). This show was first broadcast 2 August 2022.
How to Listen Live?
Click the programming image at the top of the page (top right of page if using desktop)
Listen via Windows Media Player. Click or tap here and "open file"
Listen via other media player (eg. VLC) Click or tap here and "open file"
Get Ready to ROCK! Radio is also in iTunes under Internet Radio/Classic Rock
Listen in via the Tunein app and search for "Get Ready to ROCK!" and save as favourite.
More information and links at our radio website where you can listen again to shows via the presenter pages: getreadytorockradio.com

---
Power Plays w/c 8 August 2022 (Mon-Fri)
BORN LOST Take Time (Mouthpiece) (Revolver Records)
JAIME KYLE Driving With The Brakes On (Conquest Music)
SCARLET DORN Born To Suffer (SPV Recordings)
HOLDING ABSENCE Coffin (Sharptone Records)
TYRANNOSAURUS NEBULOUS Get Some (Echoed Past Records)
KROOKED TONGUE When The Beaches Bleed (indie)
SKYPILOT Knifed On The Beach (The Distortion Project)
Featured Albums w/c 8 August (Mon-Fri)
09:00-12:00 LESSMAN VOSS Rock Is Our Religion (Atomic Fire Records)
12:00-13:00 H.E.A.T. Force Majeure (earMUSIC)
14:00-16:00 THE SLAMBOVIAN CIRCUS OF DREAMS A Very Unusual Head (indie)
---
Tweets by Get Ready to ROCK!
---
Popular (last 30 days)
---