Bass player Dale Stewart fields the questions as Seether embark on a UK tour in march supporting Three Doors Down…
1. What are you currently up to? (recording, gigs, plans etc.)
We're actually busy touring Europe at the moment, we will be here till the 26th of March. We then return to to the US for about two weeks off, after which we're going out with Nickleback for about a two month run through the US and Canada. We would like to make plans to return to Europe and South Africa before the year is through.
2. Could you take us through the new album 'Holding Onto Strings Better Left To Fray'? (e.g. ideas behind the songs etc)  Well, we didn't really put too much emphasis on what we wanted the final result to be. Rather we concentrated on just writing songs we liked, regardless of how they sounded. For us the "sound" of an album is dictated by the songs themselves. We don't set out to make a "heavy" or "mellow" album for instance. We just record the songs that make us feel something. Working with Brendan O'Brien also made a difference to the sound, we learnt a lot from Brendan. I guess the music just deals with personal relationships and trying to deal with letting go of the negative ones.
3. Are there any plans to replace Troy McLawhorn at all for live dates? How did the band regroup and move on after he left?
I think we're quite content as a three piece, I don't think we're going to change that anytime soon. It's always hard to deal with the departure of a band member on various levels. Personally, professionally, musically etc. but it's something one has to do from time to time. Sadly we've had to become quite good at it.
4. You've an upcoming tour and are supporting 3 Doors Down. What sort of set are you planning? Any plans for festivals in the summer?
We only have 50 min on the 3DD tour so it's quite tough to play all the songs we want to play in that time. We've had quite a few radio songs it the past few years and that's what people come to hear when they come to shows, so it's more of deciding what we aren't gonna play on the night. But we do like to switch it up a bit.
5. Seether are massively popular in the US and finally catching-up in the UK. Why do you think the band broke big in the US first?
I think mainly because we sound like we could be an American band and because our record label is based there. We started out hitting the road pretty hard all over the states for years straight. So we did a lot more legwork there. It's hard for a baby band to afford to go and tour overseas, but hopefully now that we're a bit more established we can concentrate more on european markets. We really enjoy playing and touring in Europe, the fans are really responsive and it's beautiful.
6. Has the internet helped you get your music out there or has it in some ways hindered it by websites offering free downloads? Do you still rely heavily on CD sales as opposed to downloads?
I think the Internet is a double edged sword to the music business. I don't think it's gonna kill it but it's definitely changing it. So it's up to artists to change with it. I know a lot of people are reluctant and resistant to change (we're pretty old school too) but you have to. CD sales these days are laughable. I guess one can just hope that even if someone steals the music they might come to the show, leave with a shirt or something. We need to keep head above water somehow.
7. What have been the live highlights so far and why?
I think for me it was opening for Metallica in my home town, Centurion, South Africa. It was fantastic because my parents were there to watch us play in front of 50 000 people but also because I got to see Metallica play and even meet my heroes. I'd been a long time fan since I was quite young so on every front it was just an incredibly memorable night.
8. If you could go back in time and perhaps change one career decision what would it be and why?
I'm not sure that I would change anything. I'd be too nervous of what the butterfly effect would be! But in all seriousness and without sounding cheesy, I think that things have gone pretty well for us. I think if one had to go back and change something negative that might've happened one might miss out on something beautiful later on.
9. Any good rock 'n' roll tales to tell…
We once did a two week tour in Canada.  I decided to drink a lot and threw up 12 out of 14 nights. I had a corona puke bucket taped to my bunk. I was young, I've calmed down since… I have some better ones but I can't tell them..
10. What do you enjoy doing in your time away from music?
 I'm into motorcycles, cars, cooking, fishing, snowboarding etc.. I'd say mainly motorcycles. I love them! I always have. I spend a lot of time up in the mountain twisties of the Angeles Crest National Forest on a sport bike and also hours on the open road on a Harley.. It's like a vacation to me..
Anything else to add and a message for your fans…
Just thanks for all the support over the past few years and we look forward to being back soon..

---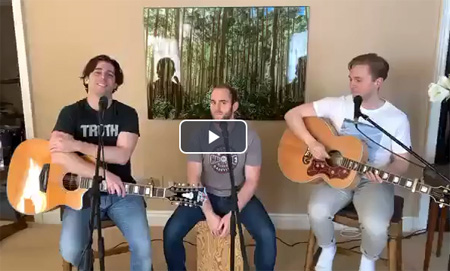 Check out Canadian singer songwriter Josh Taerk and his exclusive live session via Get Ready to ROCK!'s Facebook page
---
In his show on Get Ready to ROCK! Radio on Sunday 29 March David Randall featured a selection of tracks from "Albums of the Month" (January-March 2020) (29:45)
Listen in to Get Ready to ROCK! Radio…
Click the appropriate icons at the top of the page.

Featured Albums w/c 30 March (Mon-Fri)
09:00-12:00 HARTMANN 15 Pearls And Gems (AOR Heaven)
12:00-13:00 H.E.A.T. II (earMUSIC)
14:00-16:00 GRAHAM GOULDMAN Modesty Forbids (Lojinx)
Power Plays w/c 30 March (Mon-Fri)
LOUISE LEMON Devil (Icons Creating Evil Art )
BLACK ORCHID EMPIRE Winter Keeps Us Warm (indie)
ONE DESIRE Shadowman (Frontiers)
CRYSTAL IGNITE Black Mamba (indie)
PICTURESQUE ATTN: (Rude Records/Equal Vision Records)
SKARLETT RIOT Human (indie)
THE COVASETTES Spin (indie)
---
Tweets by Get Ready to ROCK!
---