Uncle Sid were one of our first Rising Stars interviews and you can their first interview here and a follow-up one from 2004 here
Uncle Sid have been very busy lately doing shows and rehearsing for the benefit show we're doing on the 30th along with doing radio promotion for our single "Rock Guru" which is gaining momentum. Thanks so much for sending us these Q&A we really appreciate it.
Thanks again and keep Rockin!
GRTR Rocks!
Dale Salive
Uncle Sid
http://www.unclesid.com
http://www.reverbnation.com/unclesid
http://www.facebook.com/UncleSid1
http://www.myspace.com/unclesid
https://twitter.com/#!/UncleSidMusic
http://www.cdbaby.com/Artist/UncleSid
What are you currently up to? (recording, gigs, plans etc.)
Currently Uncle Sid is doing some local shows which the one on March 30th is a benefit show for Downtown Eastside Women's Centre (DEWC.ca) in Vancouver Canada. Also we're doing some recording for our new CD due for release in a few months. This will be the first CD with our new vocalist Terena Armstrong! We will be touring western Canada again this summer with a couple Festivals in there this time around. We'll be playing Sturgis North and Alberta's Own with other shows in between from mid July to the end of Aug. We are also working on our first video for the song 'Rock Guru" which will also be released within the next few months. Our goal is to make it to Europe and tour within the next 12 months!
Uncle Sid has a new vocalist, how is that working?
As GRTR knows Uncle Sid has been through several vocalist. It's been a challenge finding the right chemistry between the music and the vocalist merging to create a harmony so when we play live it sends out a positive vibe to our Fans. We feel with Terena, there is that chemistry between Henry, Kirk and I (Dale) now and we have that going on this time around, which feels very natural. This have given us all more confidence in our live show more then ever before and we're looking forward to touring extensively in the near future. Fans can always go to unclesid.com for updates on tour dates.
What have been the highlights of the past ten years for the band?
I have to say the highlight would be finally finding the right band mates to actually record and tour with. We can't wait to tour Europe and Rock the foundations over there. Other highlights include doing a couple Charity shows for Cancer which turned out very well for the people in need. We will be doing more charity shows like that in the near future as well. We find it very rewarding to do these types of shows and we'll continue to do more in the future as well.
How has the music industry and live music scene changed in the past ten years? How has this impacted on the band?
It's definitely has had it's up and downs. We are now on an up as quite a few live venues has opened in the past couple years, making it easier for band's to showcase their music a lot more. I also see a lot more bands becoming Independent these days which I think is the way to go. It's more work but you get more freedom in so many ways. Independence has impacted our band by doing what we want when we want to do it, which reduces a lot of the stress of the business. The access of all the multimedia sites are incredible if you put the time and effort to make it work for you.
What is it that drives you all on as musicians?
Ok! What drives me as a musician is my emotions, to put it very simply:)
The pursuit of writing and recording Rockin' entertaining, inspiring music. A chance to deliver high energy, memorable ' Live ' performances. The hope of gaining respect from musical peers. A chance to visit new places and meeting all the great, loyal fans.
The ability to make music for people to relate to.
I love playing my drums! When Uncle Sid can create music that people get off on when we play live is the best feeling in the World! It drives me and makes me want to do it more and more and better and better as time goes on. Music is a universal language and it drives me to want to play these different Countries, Cities and Towns and see there's still a lot of fans who listen and support Rock music around the World.
How do you think the live music scene may look in five to ten years' time given the fact that a lot of the 70's and 80's bands will have stopped touring by then?
I (Dale) think that once these types of bands stop touring there's already bands in the wings that are already taking over that space in North America such as Pearl Jam, Alice in Chains, Jack White, Foo Fighters and Slash just to name a few, that will continue to carry the torch. I feel they will be in the forefront of the Rock scene when things move on. Hopefully they'll take the new up and coming bands on tour like Kiss and the Rolling Stones did/do and give the new blood a chance to play in front of enormous amounts of music fans and get some much needed exposure.
Message for your fans…
We'd like to thank all our Fans for being so patient and loyal through the years! It's really helps us get through the rough times. We can't thank you Rockers enough for listening and supporting Independent bands like ourselves and for showing your support and going to our live shows, You all Rock!!!!!
Also, to stay up on all Uncle Sid happenings, please have a look at our reverbnation.com/unclesid link which is the hub for all our sites such as unclesid.com, cdbaby, myspace, facebook and twitter sites so you always know what Uncle Sid is up too :) I highly recommend reverbnation.com for any Independent bands that want to get there band to the next level! Uncle Sid is coming to a town near you soon! Stay tunes Sidizens!

---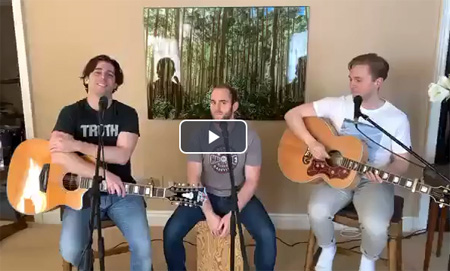 Check out Canadian singer songwriter Josh Taerk and his exclusive live session via Get Ready to ROCK!'s Facebook page
---
In his show on Get Ready to ROCK! Radio on Sunday 29 March David Randall featured a selection of tracks from "Albums of the Month" (January-March 2020) (29:45)
Listen in to Get Ready to ROCK! Radio…
Click the appropriate icons at the top of the page.

Featured Albums w/c 30 March (Mon-Fri)
09:00-12:00 HARTMANN 15 Pearls And Gems (AOR Heaven)
12:00-13:00 H.E.A.T. II (earMUSIC)
14:00-16:00 GRAHAM GOULDMAN Modesty Forbids (Lojinx)
Power Plays w/c 30 March (Mon-Fri)
LOUISE LEMON Devil (Icons Creating Evil Art )
BLACK ORCHID EMPIRE Winter Keeps Us Warm (indie)
ONE DESIRE Shadowman (Frontiers)
CRYSTAL IGNITE Black Mamba (indie)
PICTURESQUE ATTN: (Rude Records/Equal Vision Records)
SKARLETT RIOT Human (indie)
THE COVASETTES Spin (indie)
---
Tweets by Get Ready to ROCK!
---