Alan Jones and David Randall chart the rise and revival of progmeister par excellence, Steve Hackett
When we reviewed the Steve Hackett gig in October 2013 following the release of the second Genesis Revisited album, Pete Whalley summed things up.  "It was, frankly, a breathtaking trip and one that will have made a certain generation of gentlemen very happy. 
In doing so Steve Hackett has almost unwittingly become the key holder of Pandora's Box.  And the pressure for him to reveal its treasures on a regular basis is likely to be a weight he's going to have to carry.  He appeared unperturbed at the prospect.  Magnificent."
In truth the "Genesis Genie" was easing out of the bottle back in 1996 when Hackett released his first Genesis Revisited album.  He'd always put the occasional Genesis song or two in his setlist before that time, but his running order was mostly based on the latest, or previous, solo albums.
Hackett's career renaissance coincided with a revival of a more general interest in prog, reflected especially in the creation of a dedicated magazine in early-2009 to sit alongside 'Classic Rock' and the more irregular 'Blues'.  A year later he was inducted in the Hall of Fame as a member of Genesis although he was critical of the BBC documentary that followed claiming rightly that it ignored his solo output and even in camera shot he appeared to be edged out.
Hackett's rejuvenation has also coincided with the development of GRTR! especially the radio station and he has graciously given us several interviews which help place things in perspective.
Hackett has also successfully tapped in to social media during the past 10 years, he is accessible, and during Lockdown has been giving mini masterclasses on some some of his most popular material.  His autobiography – A Genesis In My Bed – is published in July 2020 whilst Alan Hewitt's 2009 book still remains relevant for his back story.
Of course, as a musician in the millennium, Hackett had the benefit of a great solo back catalogue and a credibility of association with one of the early great prog bands who were – along with the likes of Jethro Tull and Monty Python – staples in sixth former chat in the early 1970s.
Steve found it more difficult to get his material accepted in the band as time went on, and needed more control, although his big set-pieces – 'Firth Of Fifth' and  'Dancing With The Moonlit Knight' – were particularly impressive.  Before he left Genesis – in 1977 -  he had already made his first solo album.
Steve Hackett's time with Genesis is, rather like Peter Gabriel's, looked back on as the 'Golden Age' by the band's cognoscenti.
And rightly so, with albums such as Selling England By The Pound, The Lamb Lies Down On Broadway, Wind And Wuthering and A Trick Of The Tail, Hackett's reputation as a virtuoso guitarist was universally acknowledged by both fans and peer-group musicians alike.
His superlative solo career began in 1975 whilst still a part of Genesis with the brilliant Voyage Of The Acolyte – a very Genesis-sounding album (no surprise) yet a powerful statement of intent and which included classics such as 'Ace Of Wands', 'A Tower Struck Down' and the imperious 'Shadow Of The Hierophant' – still an integral part of his live shows.
Subsequent to Hackett's departure from Genesis in 1977 following much acrimony regarding his musical input, Steve made Genesis fans realise what they were going to be missing with a run of three outstanding solo releases.
The solo albums released between 1975-1983 were collected together in a box set (2015)
(My own favourite) 1978′s Please Don't Touch, included gems such as 'Narnia', 'Racing In A', the brilliant 'How Can I?' (featuring the rich vocals of Richie Havens) and 'Hoping Love Will Last' (with stunning vocals by Randy Crawford).
Spectral Mornings from 1978 is generally accepted as the finest of Steve's early albums, with tracks such as 'Every Day', 'Tigermoth', the classic title track and the fabulous 'Clocks – The Angel Of Mons' – another current live staple.
Defector from 1980 proved to be a bit of a watershed as it preceded a run of albums that, while still enjoyable, marked a shift away from progressive rock into a more commercial sphere. It still had some great tracks though – 'Jacuzzi', the heavy as f*ck 'Slogans', the chiming 'The Toast' and the sprawling epic 'The Steppes'.
The years between 1981 and 1984 saw a slew of releases  - Cured, Highly Strung, Bay Of Kings and Till We Have Faces. All had their moments but they indicated a rather hesitant standard of songwriting – somewhat at odds with the first four. Bay Of Kings comprised classical compositions and was technically superb, but hard going at times. Of this group Highly Strung is the best.
A four year hiatus was broken in 1988 with another classical album Momentum (one of J. Corbyn's favourites) which, in turn, led to another fallow period.
This was ended spectacularly in 1993 with the exceptional Guitar Noir one of Hackett's finest albums and, at last, a return to doing what he does best. 'Sierra Quemada', 'Dark As The Grave' and the dark classic 'Vampyre With A Healthy Appetite' appear here.
Following the trend, Steve dipped his toe into the blues revival of the early '90s with Blues With A Feeling – an indication, if any were needed, that the best players can turn their hand to anything.
The first of the Genesis Revisited albums in 1996 predicated a phalanx of live Genesis material that Hackett toured and released in the 2010′s as self-appointed 'Keeper Of The Flame'.
A Midsummer Night's Dream in 1997 was another classical effort, but this was followed by a run of classic Hackett albums Darktown, To Watch The Storms, Wild Orchids, the legally fraught Out Of The Tunnel's Mouth and Beyond The Shrouded Horizon were released between 1999 and 2011 – all are well worthy of anyone's time.
The three studio albums from the late 2010′s Wolflight, The Night Siren and At The Edge Of Light saw Hackett's songwriting and playing move up a couple of notches, I suspect as a consequence of touring the Genesis Revisited shows. All three albums are exceptional (check out the reviews in the GRTR! album reviews section.)
Mention must be made of the Genesis Revisited live albums – there's at least four of them and they are all just superb – the sound quality is beyond belief, the band are fantastic and Hackett's playing is just from another planet. I saw two of them and still smile about them now.
If Steve Hackett had stayed with Genesis he would have played on albums like Invisible Touch, Abacab and We Can't Dance and just picked up his cheques.
We should all be grateful he set his sights much higher …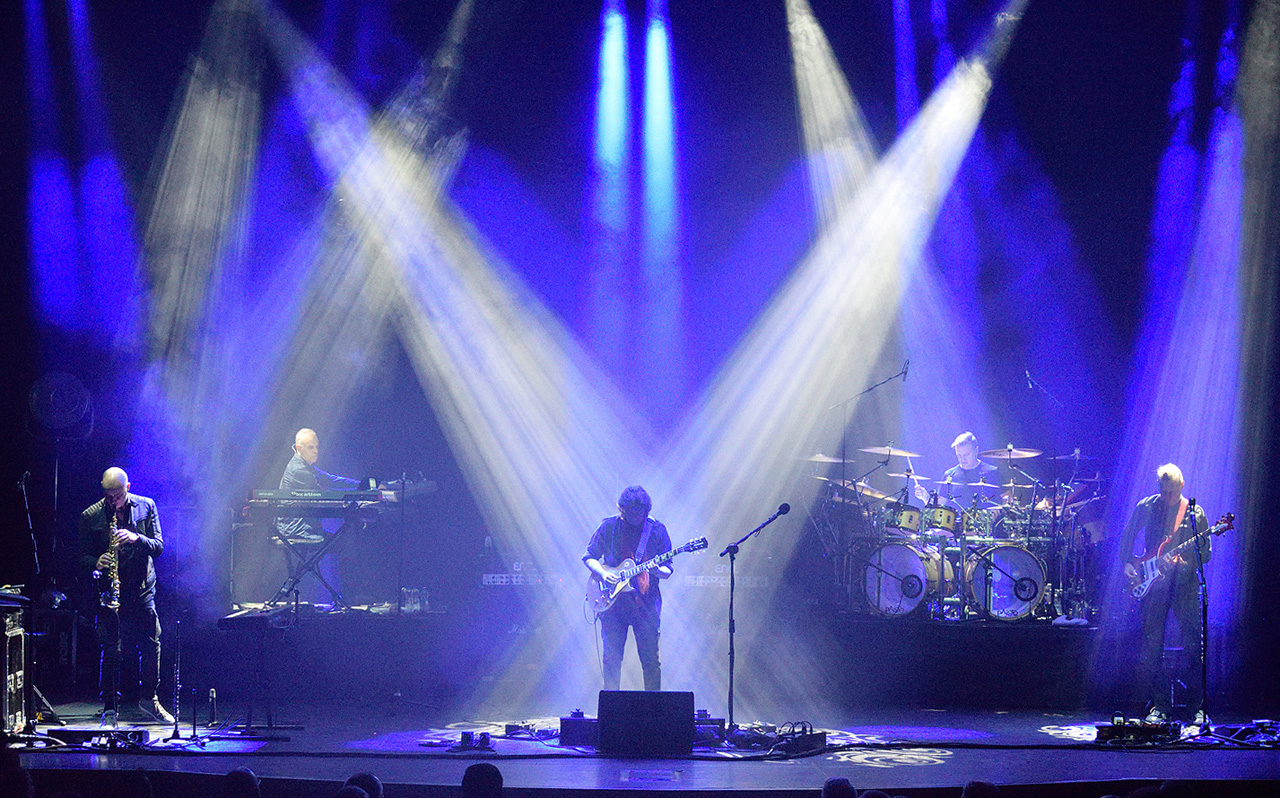 Along with Hackett's musical development, and chiming with early millennium prog zeitgeist, he had extricated himself from a difficult personal relationship with both his long-standing partner and his manager who had steered the artist through the Camino-era of releases.  He remarried in 2011 and his happier relationship with Jo Lehmann has also paralleled his more recent renaissance.  The two share an interest in travelling and alternative societies and also collaborate on lyrics.
Freed of the personal and business shackles, there followed a more focused series of albums that continues to this day.  Those who have followed his solo career since the mid-1970s may begrudge that – in terms of live performance – his solo output is now largely overshadowed by the bombast of earlier Genesis.
Reviewing his gig in October 2015 we noted "As my GRTR! colleague Pete Whalley previously commented, the Genesis genie is well and truly out of the bottle.  The music is so well executed, and so well received, Steve will struggle to contain it or let it resume a less overt position in the proceedings in the future".
Understandably the guitarist has guested on many other, often prog-related, albums including Hungarian jazz rock band Djabe but for a time in the 1980s he was a member of the melodic rock band GTR with Steve Howe.
As a guitarist, he was highly influential for his pioneering of tapping and sweeping techniques.  A great all-rounder, and genuinely nice guy to boot, Steve Hackett fully deserves his more recently acquired adulation.
Main narrative: David Randall
Discography: Alan Jones
Further reading
Alan Hewitt, Sketches Of Hackett (Wymer, 2012)
Steve Hackett, A Genesis In My Bed (Wymer, 2020)
Book review (Autobiography, 2020)
Album review (At The Edge Of Light, 2019)
Album review (Premonitions, 2015)
Photography
(i) and (v) David Randall
Steve Hackett chatted to Get Ready to ROCK! Radio in October 2014, including the impact of Genesis and Steve's own interpretation in more recent times.
---
The latest Josh Taerk live session was streamed on Sunday 21 November. Next session 12 December. The video above was a Halloween Special, streamed 31 October.
Check out the latest video here:
https://www.facebook.com/getreadytorockradio
---
David Randall presents a weekly show on Get Ready to ROCK! Radio, Sundays at 22:00 GMT, repeated on Mondays and Fridays), when he invites listeners to 'Assume The Position'. This show was first broadcast on 21 November 2021 and includes the Top 10 albums at www.getreadytorock.com for that week.
UK Blues Broadcaster of the Year (2020 and 2021 Finalist) Pete Feenstra presents his weekly Rock & Blues Show on Tuesday at 19:00 GMT as part of a five hour blues rock marathon "Tuesday is Bluesday at GRTR!". The show is repeated on Wednesdays at 22:00, Fridays at 20:00). This show was first broadcast 23 November 2021.
How to Listen Live?
Click the programming image at the top of the page (top right of page if using desktop)
Listen via Windows Media Player. Click or tap here and "open file"
Listen via other media player (eg. VLC) Click or tap here and "open file"
Get Ready to ROCK! Radio is also in iTunes under Internet Radio/Classic Rock
Listen in via the Tunein app and search for "Get Ready to ROCK!" and save as favourite.
More information and links at our radio website where you can listen again to shows via the presenter pages: getreadytorockradio.com

---
From 29 November the Featured Albums and Power Play segments will reflect those artists and tracks featured during 2021.
---
Tweets by Get Ready to ROCK!
---
Popular (last 30 days)
---