Magnum in the Millennium
Introduction
The Studio Albums
The Live Albums
Singles
Reissues
Collections
Memorabilia
What Magnum Means To Me…
WHAT MAGNUM MEANS TO ME …
When I was a teenager, probably about 13 or 14, and getting into rock music, Magnum were a name I often heard banded about, and when I took the step to investigate, On A Story Teller's Night had just been released. Bought it, hooked, and I've been a fan ever since.
One can't help but be drawn in my the cover art, especially that one, of any Rodney Matthews illustration (I was already a fan of Nazareth and Eloy, the seeds were sown there), and the music's mood matched the art perfectly.
To me, Magnum are, and always have been, a perfect blend of hard rock, pomp, prog and AOR, with beautifully crafted tunes and a voice to match. Bob Catley and Tony Clarkin have gotten through a revolving door of line-ups but never has there been anyone less than virtuoso in the band.
I've seen the band several times, firstly during the Wings Of Heaven tour, when they were beginning to really take off commercially. Seen them since, I think at the Astoria, sound always good.
Back in 2005(ish) I got to interview Tony Clarkin, a lovely and gently spoken gentleman. This was for some sleevenotes to a CD that never appeared; Universal commissioned a 2CD of the Polydor material that they then pulled, therefore work done and no money (this happened several times with Castle/Sanctuary too).
In terms of pomp and fantastic songs and sound, Magnum really are it. It's easy to fill your boots with the Jet material, but I've thought Vigilante is amazing and some of the reformation material is solid, and sadly all too often gets overlooked for the early material.
Favourite tracks
1.  On A Story Teller's Night (1985)
2.  Vigilante (1986)
3.  Brand New Morning (2004)
4.  Days Of No Trust (Wings Of Heaven, 1988)
5.  Kingdom Of Madness (1978)
Joe Geesin
Reissues
Our March 2022 retrospective understandably focuses on the period of time Get Ready to ROCK! has reviewed the band, that is 2002-2022.
During this time there have been several album reissues which gives us an opportunity to reflect on the earlier period of the band's history.
Joe Geesin contributed liner notes to the 3-CD compilation 'Long Days, Black Nights'(Sanctuary, 2002) which featured material from 1974-1994.  The booklet includes an almost complete discography, covering singles up to 1988 and albums up to 2000.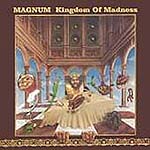 MAGNUM Remasters Castle (2005)
In the wake of Sanctuary's successful revamp of the classic Storyteller's Night album, the first five albums get similar treatment, all with a plethora of bonus tracks and liner notes that include band interviews.
The 1978 debut Kingdom Of Madness (Castle CMQDD1228 (39:33) (38:48)) is expanded as a double disc, featuring several early demos, the 1975 Sweets For My Sweet single, and the original and rare 'King' sleeve. ***
Magnum's music mixed hard rock with pomp and prog, and while Tony Clarkin's guitar and song writing led the show, the keyboards are very important to the sound.
The album itself is inconsistent, featuring some excellent and classic tracks including the In The Beginning and the title track, but Baby Rock Me is one of several that sound disjointed.
Magnum matured quickly for Magnum II (Castle CMQDD1229(57:15)), the album more consistent if experimental and with tracks like Changes, a little more commercial too. Great Adventure is another well known that became a live staple. ****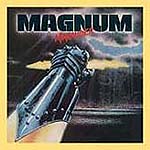 After only two studio albums some may consider a live album rather premature but Marauder (Castle CMQDD1230 (78:43)), recorded at London's Marquee, was heralded at the time. Magnum were a tight, powerful live band. An element of Yes in the music, the crowd are enthusiastic, and the sound benefiting from the remastering. ****
After a two year wait and with new pianist Mark Stanway onboard, Chase The Dragon (Castle CMQDD1231 (67:51)) saw Magnum continue to improve. It was also the first of a long line of albums to feature cover art by Rodney Matthews. Soldier Of The Line and the more acoustic The Spirit are two of Magnum classics and live staples. Bob Catley's vocals help define the album as much as Clarkin's guitar and Jeff Glixman's production. ****
1983's The Eleventh Hour (Castle CMQDD1232(70:07)) was to be their last release on Jet, the title hinting at the band's happiness with the label's treatment of them; financial pressure meant the album was self produced. The album is grandiose in true Magnum fashion, as The Price shows. Bonus cuts include 4 BBC Friday Rock Show sessions, completing the era well. ***
All these albums are excellently packaged, and the music as dated well. The remastering, extra tracks and Clarkin interviews mean they supersede previous reissues. Great, if you can afford it.
Review by Joe Geesin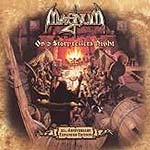 MAGNUM On A Storyteller's Night 20th Anniversary Expanded Edition
Castle CMQDD1115(45:54) (60:16)
If there's one album that sticks out in Magnum's forever expanding back catalogue, it's this album. On A Storyteller's Night is the one every fan will talk about, and refer back to. And quite rightly too, for it's a true classic. Twenty years on and it has stood the test of time. This reissue reflects that in its packing, with band involvement in the liner notes and a second disc of eight demos and a 25 minute interview.
With much of the material played live on the previous tour, and signing to a new label, the material is not only polished but also a breath of fresh air. With the band's future uncertain, it also saved Magnum and cemented their place in history.
Moving away from the pomp end of rock, it keeps the big sound with a commercial edge and solid production, and not one turkey in sight. From the opener How Far Jerusalem and the classic atmospheric title track to The Last Dance, guitar and keyboards and Clarkin's guitar and song writing mix well, with Catley's vocals as strong as ever. The Rodney Matthews artwork is now as legendary as this album and sums up the sound well.
After all the reissues, we have a definitive package that's well worth your money; no question.  *****
Review by Joe Geesin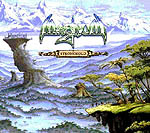 MAGNUM Stronghold Castle CMDDD1339 (2006)
The Magnum history is a long and complicated one, with a few personnel and label (and musical styles) along the way, but Clarkin, Catley et al have come a long way from their inception in the mid 70s.
When they first split at the end of 1995, Clarkin citing needing a break from Magnum, their final concert was recorded and issued as Stronghold. This reissue is long overdue, as the original album was done kinda cheaply, it's been long unavailable, and it's basically a damn good concert.
The split had been announced, so it was an emotional event. Whether clubs, halls or stadiums, the band had always been a popular live draw, and here the band went out with a bang.
Recorded in Germany, in November that year, the set kicks off an intro of 'We'll Meet Again' before launching into the classic 'Changes', we get more than a greatest hits. From 'Just Like An Arrow' and 'Les Mort Dansant' to 'The Tall Ships' and 'Days Of No Trust', disc one is 12 of the very best.
Disc two kicks off with 'Wild Swan', we also get the single 'Rockin' Chair' and the epic 'Vigilante'. 'Kingdom Of Madness' and 'The Last Dance' stand out; the band are on form, and band-audience banter is good.
Expanded with sleevenotes and extra tracks, another top package and essential live album.  *****
Review by Joe Geesin
Editor's Note: 'Stronghold' was originally released as 'The Last Dance' via SPV in 1996.
---
Introduction
The Studio Albums
The Live Albums
Singles
Reissues
Collections
Memorabilia
What Magnum Means To Me…

---
Josh Taerk's latest Sunday Session was streamed on Sunday 17 July.
Check out previous videos here:
https://www.facebook.com/getreadytorockradio
---
David Randall presents a weekly show on Get Ready to ROCK! Radio, Sundays at 22:00 GMT, repeated on Mondays and Fridays), when he invites listeners to 'Assume The Position'. This show was first broadcast on 24 July 2022.
UK Blues Broadcaster of the Year (2020 and 2021 Finalist) Pete Feenstra presents his weekly Rock & Blues Show on Tuesday at 19:00 GMT as part of a five hour blues rock marathon "Tuesday is Bluesday at GRTR!". The show is repeated on Wednesdays at 22:00, Fridays at 20:00). This show was first broadcast 26 July 2022.
How to Listen Live?
Click the programming image at the top of the page (top right of page if using desktop)
Listen via Windows Media Player. Click or tap here and "open file"
Listen via other media player (eg. VLC) Click or tap here and "open file"
Get Ready to ROCK! Radio is also in iTunes under Internet Radio/Classic Rock
Listen in via the Tunein app and search for "Get Ready to ROCK!" and save as favourite.
More information and links at our radio website where you can listen again to shows via the presenter pages: getreadytorockradio.com

---
Power Plays w/c 8 August 2022 (Mon-Fri)
BORN LOST Take Time (Mouthpiece) (Revolver Records)
JAIME KYLE Driving With The Brakes On (Conquest Music)
SCARLET DORN Born To Suffer (SPV Recordings)
HOLDING ABSENCE Coffin (Sharptone Records)
TYRANNOSAURUS NEBULOUS Get Some (Echoed Past Records)
KROOKED TONGUE When The Beaches Bleed (indie)
SKYPILOT Knifed On The Beach (The Distortion Project)
Featured Albums w/c 8 August (Mon-Fri)
09:00-12:00 LESSMAN VOSS Rock Is Our Religion (Atomic Fire Records)
12:00-13:00 H.E.A.T. Force Majeure (earMUSIC)
14:00-16:00 THE SLAMBOVIAN CIRCUS OF DREAMS A Very Unusual Head (indie)
---
Tweets by Get Ready to ROCK!
---
Popular (last 30 days)
---