Magnum in the Millennium
Introduction
The Studio Albums
The Live Albums
Singles
Reissues
Collections
Memorabilia
What Magnum Means To Me…
WHAT MAGNUM MEANS TO ME…
I first came across Magnum by chance as they opened the Monsters Of Rock bill in 1985.
Travelling on the coach to Donington from Stoke with one-time GRTR! scribe Phil Berisford we kept hearing fellow rock passengers mentioning Magnum and how they hoped the coach would reach the festival in time. Not a given as it seemed every five minutes we had a loo stop for the delicate rock fans bladders! From the first song they played on that day, 'All England's Eyes', I became a fan.
Since then I have seen them many times during the 1980′s at the Victoria Hall and a few times since they reformed.
They have never disappointed live, even if being honest their recent albums have had a few good songs and a lot of songs that fail to capture the listener's attention. However, 'The Monster Roars' is a return to form and one I am sure all fans of the band can enjoy.
Magnum, the kings of pomp and splendour, long may they continue…
Favourite tracks:
Only In America (Sleepwalking, 1992)
The Spirit (Chase The Dragon, 1982)
Cry (Breath Of Life, 2002)
Sacred Hour (Chase The Dragon, 1982)
Just Like An Arrow (On A Storyteller's Night, 1985)
Jason Ritchie
Magnum in the Millennium
Get Ready to ROCK! have reviewed Magnum religiously since 2004.  In terms of studio albums, the band's 2002 "comeback" is only omitted because its release pre-dates the website by about six months.
One aspect that is not always covered in our reviews – and to be honest a bone of contention with reviewers – in an age of downloads we have not always been privy to the limited or extended editions. These frequently yield bonus tracks, "making of" videos, and galleries.  Since 2014 albums have been issued on vinyl.
For completism we have included reference below to "definitive" editions.
The Studio Albums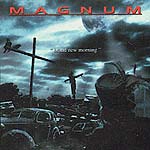 2004 – Brand New Morning ****
"Magnum may not be filling the NEC's and Wembley Arena's like the late 80's but the band is still a creative force both in the studio and in the live arena."
Recommended: 'The Scarecrow'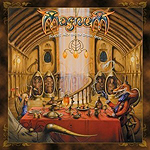 2007 – Princess Alice And The Broken Arrow *****
"Magnum return with possibly their most intricate album with regards to production and instrumentation."
Recommended: 'When We Were Younger'
Standard version includes bonus DVD with "making of" content.
I'm quite happy to be the main songwriter, I find it easier to write on my own.

Tony Clarkin, 2005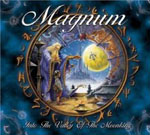 2009 – Into The Valley Of The Moonking  ****1/2
"Overall possibly less pomptastic than 2007′s 'Princess Alice…' but instead you get a more varied song mix and heavy in many respects as well. With the excellent Rodney Matthews artwork it may actually take you some time to open your CD case!"
Recommended: 'Blood On Your Barbed Wire Thorns'
Limited edition includes bonus DVD with interview and artwork.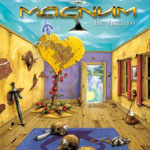 2011 – The Visitation ****
"They may not have the instant appeal of some melodic rock based bands but the joy of Magnum songs is that they grow better after each listen."
Recommended: 'Black Skies'
Limited version includes bonus DVD with High Voltage footage (2010), non-album track video, artwork.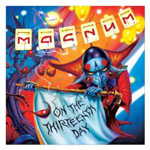 2012 – On The 13th Day ****1/2
"Tony Clarkin has brought back the pomp and splendour to the band, much to the delight of this fan and I am sure many others."
Recommended: 'All The Dreamers'
The Limited digipak version includes 6 bonus tracks including 'Eyes Like Fire' from the Visitation sessions, two acoustic alternate album versions, two live tracks and a demo from 1988/89.
2014 – Escape From The Shadow Garden  ****
"It is fair to say that with Magnum you will probably never get a naff album.  Tony Clarkin's songwriting sensibilties and the band's standards are far too high for that."
Recommended: 'Crying In The Rain'
Bonus live track on vinyl release.  6 live tracks on bonus disc version.
2016 – Sacred Blood "Divine" Lies  ****1/2
"From the opener and title track 'Sacred Blood "Divine" Lies' Magnum seem to have regained their late-eighties, early-nineties mojo."
Recommended: 'Don't Cry Baby'
Limited version includes extra disc with three bonus tracks, two of which appear on the 'Dance Of the Black Tattoo' compilation.
2018 – Lost On The Road To Eternity  *****
'Lost' will appeal to the die-hards (who will surely hail the return of the early eighties logo) as well as the lapsed.  Forty years after their album debut, 'Lost On The Road To Eternity' is an absolute triumph."
Recommended: 'Lost On The Road To Eternity'
Bonus disc includes 4 live tracks.
2020 – The Serpent Rings ****
'The Serpent Rings' continues the high standard and renewed vigour not least down to the addition of a relatively new keyboard player and drummer and – now – a new bassist"
Recommended: 'The Serpent Rings'
2022 – The Monster Roars ***1/2
"The best that can be said about 'The Monster Roars' is that it simply tops up a very fine back catalogue"
Recommended: 'Walk The Silent Hours'
---
Introduction
The Studio Albums
The Live Albums
Singles
Reissues
Collections
Memorabilia
What Magnum Means To Me…

---
Josh Taerk's latest Sunday Session was streamed on Sunday 20 March 2022 at 21:00 GMT (16:00 EST). Josh's next session is Sunday 22 May.
Check out previous videos here: https://www.facebook.com/getreadytorockradio
---
David Randall presents a weekly show on Get Ready to ROCK! Radio, Sundays at 22:00 GMT, repeated on Mondays and Fridays), when he invites listeners to 'Assume The Position'. This show was first broadcast on 8 May 2022.
UK Blues Broadcaster of the Year (2020 and 2021 Finalist) Pete Feenstra presents his weekly Rock & Blues Show on Tuesday at 19:00 GMT as part of a five hour blues rock marathon "Tuesday is Bluesday at GRTR!". The show is repeated on Wednesdays at 22:00, Fridays at 20:00). This show was first broadcast 3 May 2022.
How to Listen Live?
Click the programming image at the top of the page (top right of page if using desktop)
Listen via Windows Media Player. Click or tap here and "open file"
Listen via other media player (eg. VLC) Click or tap here and "open file"
Get Ready to ROCK! Radio is also in iTunes under Internet Radio/Classic Rock
Listen in via the Tunein app and search for "Get Ready to ROCK!" and save as favourite.
More information and links at our radio website where you can listen again to shows via the presenter pages: getreadytorockradio.com

---
Power Plays w/c 16 May 2022 (Mon-Fri)
FLOYA The Hymn (Arising Empire)
VEXES The Dream Disease (indie)
NEAR DUSK The Way It Goes (Iron Head Records)
IN SEARCH OF SUN Make Me Crazy (indie)
WALLNER VAIN Deceive Her (indie)
FIGHT THE FADE Where You Go I Go (FiXT)
MARATON Non-Euclidean Heart (Indie Recordings)
Featured Albums w/c 16 May (Mon-Fri)
09:00-12:00 TERRA NOVA Ring That Bell (Lion Music)
12:00-13:00 FOZZY Boombox (Mascot)
14:00-16:00 MICHAEL McDERMOTT St.Paul's Boulevard (Pauper Sky Records)
---
Tweets by Get Ready to ROCK!
---
Popular (last 30 days)
---