Share the post "Gig review: Johnny's Rock N Roll Show – THE ZOMBIES, ARGENT, Aylesbury, 2 June 2013"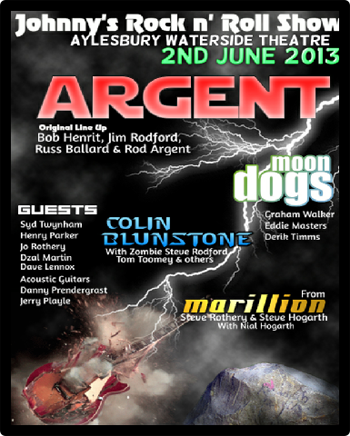 Two years on, following a life-changing trampoline accident, Johnny Beer Timms has maintained a warming sense of humour as he presided over this evening's tribute and fundraiser.
The guitarists Danny Prendergast and Jerry Playle provided a tranquil and reflective acoustic start to a glorious musical evening hosted by GRTR! Radio's very own Peter Ross.
Johnny's Dad Derik warmed things up with his band The Moondogs (ably accompanied by Steve Rothery's wife Jo on vocals) whilst local band Henry Parker (& The Velvet Loons), whom Derik is currently producing, provided some punchy rock that could see them vie with some of their peers competing for the same space (Albany Down amongst others). An extended 'Red Fox' was indeed an evening highlight.
One time Friars regular Steve Rothery, and his faithful cohort Steve Hogarth (along with Steve's son Nial) demonstrated that they could provide cabaret for every occasion, consummate professionals leading us through 'Life On Mars' and 'All The Young Dudes' whilst including a version of 'Sugar Mice' from Marillion's earlier catalogue.
But it was The Zombies extended 'family' that sealed an evening of celebration, not least a programme of locally sourced music (in the new "home" to the legendary local Friars music club) but in its own way one of triumph through tribulation as funds were raised to help Johnny's rehabilitation.
Hot-footing it from their UK tour, and fronted by the timeless voice of Colin Blunstone,  the band included their own material, and Colin's, including 'What Becomes Of The Brokenhearted'.  As he commented, the band have been together for an amazing 50-plus years and it is hardly surprising that 'Odyssey & Oracle' is now recognised as a true classic not least because the music itself is durable.  And this is proved time and again by the early single 'She's Not There'.
In an evening of anticipation and quiet reflection, it didn't end there.  Although The Zombies had the lion's share of the show, it was topped off by a rare appearance from Argent.
As soon as The Zombies had morphed into 50 per cent of Argent the dynamic changed and especially with the arrival on stage of Russ Ballard.  If at times this closing set may have seemed like Russ and a backing band, it did reiterate his fantastic songwriting CV and reinforce his credentials as an excellent guitarist.  He also looks very similar to my 'Sounds" poster dated c.1974 and he still plays that guitar with the holes.
I had the idea a while back that Ballard had spent the last four decades since Argent's split peeling grapes in some exotic location whilst also peeling back envelopes containing exotic royalty cheques.  Now back in the UK it would be a great shame if Russ and the Argent guys don't reconvene again and actually expand the setlist they toured with in early-2012.
Altogether a great evening of fund-raising from generous individuals – including the audience – and also attesting the power of music to both inspire and to provide a purpose.
Review by David Randall
David Randall presents 'Assume The Position' on Get Ready to ROCK! Radio every Sunday at 22:00 GMT.
---
Listen in to Get Ready to ROCK! Radio…
Click the appropriate icons at the top of the page.

In this two hour special David Randall plays a selection of the GRTR! reviewer choices for 'Best of 2019′ and announces the results of the popular poll. First broadcast Sunday 22 December 2019.


Featured Albums w/c 20 January (Mon-Fri)

09:00-12:00 AUTUMN'S CHILD Autumn's Child (AOR Heaven)
12:00-13:00 THE RAGGED SAINTS Sonic Playground Revisited (AOR Heaven)
14:00-16:00 AMBERLY CHALBERG Hi-Line (indie)

Power Plays w/c 20 January (Mon-Fri)

Breakthrough Acts 2020
---
Tweets by Get Ready to ROCK!
---