Share the post "Gig review: BLUE OYSTER CULT – Eventim Apollo, Hammersmith, 22 February 2019"
After a lull of a decade or so, Blue Oyster Cult have resumed their love affair with the UK in a big way in the past four years. Show stealing supporting appearances at Ramblin' Man and Stone Free were sandwiched by a night at a packed and sticky Forum complete with a temporary return for Albert Bouchard. That reaction appears to have persuaded them to embark on this extensive UK tour including a return to the venue once known as the Hammersmith Odeon, probably for the first time since my debut BOC gig in 1989.
It was ambitious to book a venue with a greater capacity these days with the seats removed from the stalls, but it was reasonably if not uncomfortably full. It also helped that The Temperance Movement were the support act, with a large headline following in their own right, though they certainly did not have headline-quality lights and sound for their 45 minute set.
Opener 'Only Friend' and 'Ain't No Telling' showed the band at their best, in a bluesy groove with plenty of space in between the guitar riffs of Paul Sayer and Matt White, while 'The Way It Was And The Way It Is Now' was an example of how singer Phil Campbell shares more than just a rooster cut with the gravelly soul-influenced vocals of Steve Marriott and Rod Stewart. He also played some mean harmonica on 'Take It Back' while on 'Midnight Black' his gruff singing added to the Creedence Clearwater Revival vibe.
However a couple of the ballads fared less well in this environment with the title track of last album 'A Deeper Cut',  with Phil playing acoustic, of almost C**dplay dreariness. Far more satisfying  was closer 'Built-In Forgetter' with its funky groove and both guitarists at least allowed to stretch out somewhat.
It wasn't the best environment to see them in but, Phil apart, their stage presence was rather anonymous and if I'm honest while I enjoyed the set it sated my own appetite to see them headline.
Blue Oyster Cult somewhat surprisingly opened with 'Dr Music', which was rather run of the mill by their inventive standards until lifted by a keyboard solo from Richie Castellano, with guitarist Buck Dharma singing 'Before The Kiss (A Redcap)' with the first signs of jamming, including a short bass solo from Danny Miranda.
Eric Bloom, cutting a mellow and genial figure as frontman, then reminded us that BOC make a point of playing different songs each night and that the setlist would vary from the previous night in Norwich, before introducing 'Career Of Evil', one of many in which he sang lead but Buck's backing vocal intertwined very effectively.
The gig was somewhat slow to take off, at least before the biggest cheers yet for a surprisingly early but evergreen 'Burning For You'. For a show in a relatively large venue it was hindered by an initially  muddy sound and a light show for which every expense had clearly been spared with a single spotlight on the singer or lead instrumentalist and the rest of the band bathed in a rather murky dim light.
Luckily the inventive quality of their music overcome any need for gimmicks. They have always been impossible to pigeonhole, epitomised by 'Harvest Moon', which dating back to 1998 counts as a new song from a band sadly yet to record new material in 18 years. It started as a gentle, harmonied soft rocker but burst into life with lengthy guitar solos from Richie and Buck. 'OD'd On Life Itself' was lively with a strong chorus and 'The Vigil' was another lesser known cut dusted off to the delight of the diehards while 'ETI' revived memories of that Forum show where 'Agents Of Fortune' was played in full.
Last time around at Stone Free they played the whole of their debut album and it was one of those songs that provided the set highlight in the epic  'Then Came The Last Days Of May' with extended solos from both guitarists.
Richie's speedy fretwork impressed enough but Buck- on that headless guitar with cheese-shaped holes he seems to have been playing since time immemorial – whose solo demonstrated what a fluent and underrated guitar hero he is. Nobody is perfect however and whereas the ten minutes of '..May' flew by, the instrumental 'Bucks Boogie' did rather outstay its welcome, especially when it broke down into a jam between him and Danny.
In between this series of BOC concert staples, 'Flaming Telepaths' was a welcome surprise, though I wasn't the only one to momentarily think for a few bars that it was the intro to 'Astronomy'. After 'the joke's on you' sign off, Eric cackled as the strobe lighting flashed and for a moment it was a reminder of how these now rather cuddly veterans did once have a sinister side to them.
It was back into familiar territory with Eric reminiscing about old movies before introducing 'Godzilla' which had people singing along. 'Don't Fear The Reaper' is of course ubiquitous in popular culture – it was even in a Grauniad feature that week – so I can see why the band may have wanted to approach it somewhat differently,  but a Buck-led instrumental segment was rather dull, though it did build anticipation for  the song itself, which was a perfect climax, striking the right balance between a faiful rendition and a short but looser closing jam section.
With the majority of people probably expecting 'Black Blade', as an encore there was great excitement at hearing the intro to 'Joan Crawford', and people were roaring along to the playfully macabre 'Joan Crawford has risen from the grave' chorus.
'Hot Rails To Hell', with Richie charging about the stage in between singing lead, was as close to an out and out rocker as they get. I suspected that this might be it, but there was a final trip back to the early years in 'Cities On Flame With Rock and Roll', building steadily to a climax with the four guitarists line astern in trademark fashion.
Despite my reservations over the presentation, this was a memorable evening in which a judicious blend of staple favourites and choice cuts reminded us what a unique and quirky body of work the veteran New Yorkers have created. With a revolving setlist, I'm already looking forward to their next return.
Review and photos by Andy Nathan

---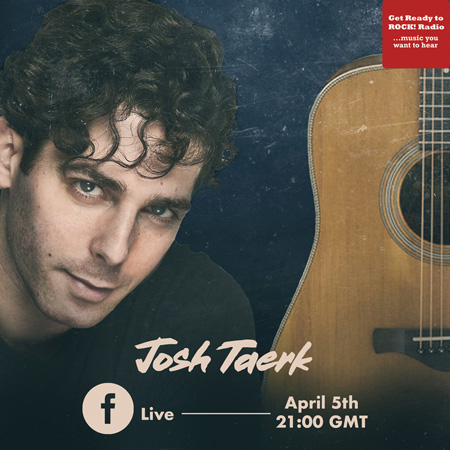 Check out Canadian singer songwriter Josh Taerk and his exclusive live session via Get Ready to ROCK!'s Facebook page
---
In his show on Get Ready to ROCK! Radio on Sunday 29 March David Randall featured a selection of tracks from "Albums of the Month" (January-March 2020) (29:45)
Listen in to Get Ready to ROCK! Radio…
Click the appropriate icons at the top of the page.

Featured Albums w/c 30 March (Mon-Fri)
09:00-12:00 HARTMANN 15 Pearls And Gems (AOR Heaven)
12:00-13:00 H.E.A.T. II (earMUSIC)
14:00-16:00 GRAHAM GOULDMAN Modesty Forbids (Lojinx)
Power Plays w/c 30 March (Mon-Fri)
LOUISE LEMON Devil (Icons Creating Evil Art )
BLACK ORCHID EMPIRE Winter Keeps Us Warm (indie)
ONE DESIRE Shadowman (Frontiers)
CRYSTAL IGNITE Black Mamba (indie)
PICTURESQUE ATTN: (Rude Records/Equal Vision Records)
SKARLETT RIOT Human (indie)
THE COVASETTES Spin (indie)
---
Tweets by Get Ready to ROCK!
---