Share the post "Gig review: HAWKWIND – Cambridge Corn Exchange,18 November 2019"
Now celebrating their 50th tour, Hawkwind have always been one of the giants of the UK rock scene but have, despite their longevity, never seen the plaudits and respect that are heaped on many acts of their vintage and younger.
This extensive UK tour gives those around the country the chance to see what the legendary band has done in a show that cherry picks some of the best from their five-decade career and tops even the high of their magnificent orchestral tour last year. Though the only constant from their original line-up is 'Captain' Dave Brock, this groundbreaking outfit is arguably currently the best it's been and certainly those who have witnessed the tour have cited it the best the band have played.
First though came an extraordinary support slot by The Blackheart Orchestra, the duo of Chrissy Mostyn and Rick Pilkington who won the hearts of so many when they opened on Hawkwind's previous jaunt. Both multi instrumentalists, the two musicians walked quietly onto the stage and effortlessly filled the cavernous Corn Exchange with a sound at once huge yet beautifully fragile.
First number, 'The Tide' was plaintive and haunting, a number that brought about a hushed and reverential calm to the sold-out venue and was light years away from what most were expecting from a touring partner of the sonic warriors. With its cascading guitar loop and Mostyn's stunning vocals 'Hypnotize' more than fulfilled its title and the percussive and driven 'Drown Me Out' brought a dramatic, helter-skelter piano pattern that punctuated the childlike wonder of the vocals.
Amongst the other tracks in their short but perfectly formed set, fan favourite 'Sebastian' was as glorious as could have been expected, whilst closing number 'Hey Pluto' wowed with a vibe that brought to mind what may happen if Kate Bush did a World Music album. A famously tough crowd, the Hawkfans were won over by TBO and it seemingly won't be long before they're headlining venues like this themselves.
A mix of fans, young and old, pushed further towards the front as the lights went off in the hall and the band hit the stage in a wash of lasers as a huge, animated backdrop came startlingly to life in a blaze of technicolour as they burst into a pneumatic 'Motorway City'. Like the rest of the set, the song has a really timeless quality and is carried along by an impossibly powerful and seductively rocking groove, the band comfortable and assured as they play within its constantly morphing structure.
Bringing things right up to date with lead track from their latest album, 'Flesh Fondue' is a pounding, kinetic space monster that highlights that Hawkwind are still creating great music and the critically acclaimed 'All Aboard the Skylark' can happily sit alongside such greats as 'Masters of the Universe'.
The more cerebral 'Last Man on Earth' juxtaposes a light melody with desolate lyrics and a sense of loss before 'The Song of the Gremlin', 'Born to Go' (sandwiching 'You Shouldn't Do That'), '65 Million Years Ago' and 'In the Beginning' take the audience on an truly epic and utterly hypnotizing journey that appears to span the length of the whole night whilst seemingly over in a flash. Hawkwind, it reveals, have conquered time and space and have managed to alter the very fabric of the universe with their instruments.
Forty-two years old now, 'Spirit of the Age' still sounds utterly futuristic and captures that feeling of all the great dystopian sci-fi that was happening at the time, foreshadowing with a frightening accuracy events that were coming and 'The Fantasy of Faldum' caught the zeitgeist, backed by the huge screen showing a landscape made up of Mindcraft style graphics.
Although Brock was suffering from a cold that held his vocals back a little, there was certainly no slowing down musically as the band attacked the set with a dexterity that was as dazzling as the lightshow.
An incredibly solid and inventive presence behind the kit, the hugely recognizable intro and vocals of 'Silver Machine' were handled with great aplomb by longtime drummer Richard Chadwick as the crowd went into a virtual frenzy of ecstasy at Hawkwind's most famous anthem.
Nearly impossible to listen to without hearing Lemmy's voice on the original, this staple of 70's and 80's rock still feels a really visceral thrill, a primal ride on a screaming BSA motorbike through the psyche.
In an ordinary show anything else would have been anti-climactic but this is Hawkwind and the classic pairing from the seminal 'Warrior on the Edge of Time' album, 'Assault and Battery' and 'The Golden Void' melted minds with its visuals, constantly shifting patterns assailing the senses as the music washed over the crowd.
Set closer 'Right to Decide' brought an almost New Wave feeling that rocked with a large sprinkling of space dust and featured an earth-shaking guitar solo by Brock. Encoring with the acoustic and joyous singalong of 'Hurry on Sundown' and the full throttle boogie of 'Master of the Universe/Welcome to the Universe' that was stretched to epic length,
Hawkwind couldn't have put on a better show or a bigger show of strength. Very few bands can come close to matching them and nights like this show that they are still true leaders in their field. Here's to the next 50 years.
Review by Paul Monkhouse
Photos by Jan Roberts

---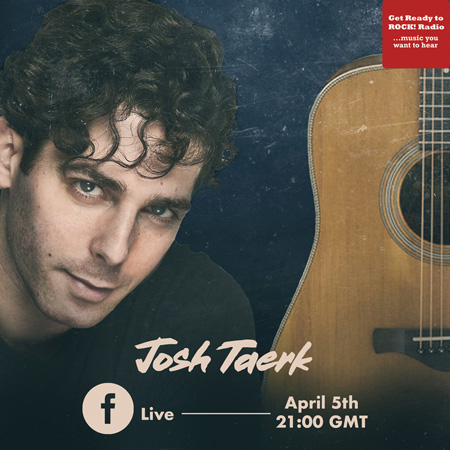 Canadian singer songwriter Josh Taerk plays an exclusive live session via Get Ready to ROCK!'s Facebook page on Sunday 5 April at 21:00 BST (GMT+1)
---
In his show on Get Ready to ROCK! Radio on Sunday 29 March David Randall featured a selection of tracks from "Albums of the Month" (January-March 2020) (29:45)
Listen in to Get Ready to ROCK! Radio…
Click the appropriate icons at the top of the page.

Featured Albums w/c 30 March (Mon-Fri)
09:00-12:00 HARTMANN 15 Pearls And Gems (AOR Heaven)
12:00-13:00 H.E.A.T. II (earMUSIC)
14:00-16:00 GRAHAM GOULDMAN Modesty Forbids (Lojinx)
Power Plays w/c 30 March (Mon-Fri)
LOUISE LEMON Devil (Icons Creating Evil Art )
BLACK ORCHID EMPIRE Winter Keeps Us Warm (indie)
ONE DESIRE Shadowman (Frontiers)
CRYSTAL IGNITE Black Mamba (indie)
PICTURESQUE ATTN: (Rude Records/Equal Vision Records)
SKARLETT RIOT Human (indie)
THE COVASETTES Spin (indie)
---
Tweets by Get Ready to ROCK!
---