Magnum in the Millennium
Introduction
The Studio Albums
The Live Albums
Singles
Reissues
Collections
Memorabilia
What Magnum Means To Me…
WHAT MAGNUM MEANS TO ME …
My own history with Magnum begins in the spring of 1985. I'd been getting into metal and rock for a year or two but only now was beginning to discover lesser known 'new' acts for myself.
Around that time I heard songs from their new album 'On a Storyteller's Night' on the Friday Rock Show and a live performance on the short-lived cult rock show ECT on Channel 4, and was instantly hooked.
Of course I soon came to realise that they were not actually a 'new' band but one returning from a period of hibernation with a new record label and slightly updated sound and image.
Within weeks I bought the previous album 'Eleventh Hour' at a local record shop and by the end of 1985 I was a fan for life, seeing them at Hammersmith Odeon at the end of the year for the first of probably 30-plus  occasions and digging out the older albums, and marvelling at how side one of the 'Chase The Dragon' album boasted not one but a trio of all-time classics in 'Soldier of the Line', 'The Spirit' and 'Sacred Hour'.
Something in them really appealed to me – the writing of Tony Clarkin, which to this day has an individual style and moves beyond basic lyrical themes to address subjects as wide as fantasy and mythology, the human condition and above all the futility of war.
The melodic and thoughtful arrangements with a  great balance between his guitar and the pompy keyboards of Mark Stanway. And the way that 'uncle' Bob Catley, one of rock's most beloved characters, can give someone else's lyrics such expression both in his voice and those inimitable (well, actually much imitated) hand gestures. Above all, the way they maintained an olde world Englishness that did not care for passing fads.
In fact though, they did find in their most commercial period of the late eighties that they captured the zeitgeist and achieved popular success. Roger Taylor co-produced 'Vigilante' and though the pop sheen of the production put me and a few old-school Magnum fans off, the more guitar-heavy 'Wings Of Heaven' was a top 5 album and I was thrilled that three singles landed in the top 40. For me, that tour also saw them at their peak.
Yet the one time they did depart from simply being themselves, enlisting outside collaborators and moving to America to record 'Goodnight LA' was a career mistake – they even played Wembley Arena but did not seem comfortable.
Though they reverted to the old sound, musical times were also changing and by the mid-nineties they were down to playing venues like the Marquee, though some of those shows were among the most enjoyable with lasting friendships formed among a loyal band of followers. We all assumed an emotional show at the Astoria late in 1995 would be their farewell.
In the meantime I was lucky to witness Messrs Catley and Clarkin in Hard Rain and the former as he pursued a solo career. The turnouts were small, but he was guaranteed to hold court at the bar before and after, and Ten's Gary Hughes wrote some songs in the classic Magnum style. A fond memory is when he played the Cartoon in Croydon and hurt his hand against the low ceiling doing one of those trademark hand sweeps!
Reforming in 2001, Magnum initially disappointed with 'Breath Of Life' but subsequent albums marked a real return to form, notably 'Princess Alice And The Broken Arrow'; it was in the top 5 of my first-ever end of year selection for GRTR! that year when I described it as 'a mellow but surprisingly effective return to the olde-worlde Magnum sound'.
The songs on its follow up 'In The Valley Of The Moonking' were even stronger but ruined by an inexplicably rough production. I also enjoyed the live shows notably a couple of tours reliving the glory of 'Storytellers' and 'Wings Of Heaven', playing my two favourite Magnum albums in full.
The last decade has seen me lose touch somewhat with their new material, for various reasons but amid line up changes Clarkin still manages to turn out fresh and original material as regular as clockwork.
I haven't enjoyed the live shows quite as much either, with predictable setlists and Bob's voice noticeably if understandably sounding croakier with the passage of time, but I still think Magnum are a Great British institution who have been a big part of my musical life and a 50th anniversary is one I hope to pay tribute to in person on the tour.
Favourite tracks:
Soldier Of The Line (Chase The Dragon, 1982)
The Spirit (Chase The Dragon, 1982)
Sacred Hour (Chase The Dragon, 1982)
On A Storytellers Night (1985)
Vigilante (1986)
Andy Nathan

Magnum in the Millennium
Get Ready to ROCK!'s first Magnum live review appeared in October 2004 and since that time we have covered them on tours and festival dates including High Voltage (2010), Giants Of Rock (2015) and HRH Prog (2017).
We've included here a selection of reviews spanning 20 years from Joe Geesin's account of their gig in London (October 2004) to Darren Griffiths'  in June 2019 one of the last gigs featuring bassist Al Barrow who announced his departure from the band shortly afterwards.
Live Gallery
The Live Albums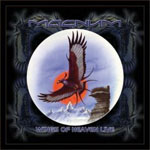 2008  – Wings of Heaven Live *****
"Things really do not get any better than this. Really."
2015 – Escape From The Shadow Garden  Live 2014
2019 – Live at the Symphony Hall  ****
"Perhaps Sammet gets it right when he hollers enthusiastically "Magnum – the greatest band in the world".  On home turf, certainly, there's really nothing better. "

Selected gig reviews
MAGNUM
London, Astoria 1 October 2004
Another hot night in the Astoria; smokey too. If you want a reason to ban smoking in public places this is it.
With the upstairs roped off for guests, we were all packed downstairs but it wasn't as packed as I'd expected.
Still, the crowd (or was is it a bad mullet convention?) were enthusiastic for Magnum's return in the wake of their excellent new Brand New Morning CD.
The band were on tight and top form, the onstage mix superb, with singer Bob Catley often waving his arms as if he's about to cast a spell, and looking windswept with the onstage fan.
Windswept is not an option for the shaven headed Clarkin. A guitar maestro he is for sure. The welcome return of pianist Mark Stanway was a crowd pleaser, and drummer Harry James (formerly of Thunder) fits in like a hand in a glove.
Kicking off with 'All England's Eyes' from the classic On A Story Teller's Night (from which we got several tracks), the crowd were soon in suitable mood, and noisy too. Then we get the new album's title track.
The new material fits in seamlessly and is well appreciated. And given the current popularity for either playing a new album in full or ignoring it completely for a greatest hits package, the 4 tracks from the new album made for a good balance.
Tracks from Vigilante and the top 40 hit 'Days Of No Trust' added to the balance nicely, but the time restrictions meant the 90s were pretty much ignored and not a great deal of early material, but for the given setlist there really were no complaints.
Finishing with the classic epic 'Kingdom Of Madness' was a real treat for all.
Just the one encore in 'Sacred Hour' for the enthusiastic crowd, and James' ludicrous wig bringing many a cheer.
All in all, we got the early pomp and prog, the anthemic rock and the modern heavier material. The complete works.
Magnum at the Astoria – one of life's great pleasures.
Setlist:
All England's Eyes
Wild Swan
Brand New Morning
Back Street Kids
Last Goodbye
We All Run
How Far Jerusalem
The Blue And The Grey
Days Of No Trust
Vigilante
Kingdom Of Madness
Encore:- Keyboard/Guitar solo
Sacred Hour
Review: Joe Geesin
I think the highlights would be playing the NEC and Wembley and touring the States with Ozzy in the 80′s. The low point has to be the day Magnum split up, so reforming was a real high point for me.

Bob Catley, 2002
MAGNUM
Tivoli, Buckley, 12 April 2011
Live photos by Steve Goudie
At the start of the band's UK tour, GRTR!'s Managing Editor David Randall reveals a darker past … and nothing to do with the Tivoli's interior lighting either…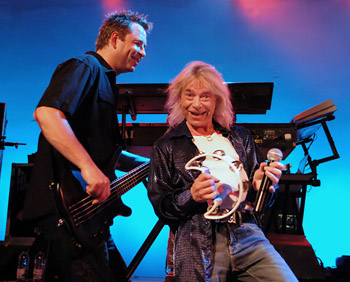 I have to admit in the 1990s I was obsessed with Magnum. A second generation fan, there was something about their music and perhaps their grunge decade plight that appealed. It saw them playing in venues like the Tivoli an old picturehouse in Buckley, North Wales but I followed them further, to festivals and to Birmingham Town Hall where they filmed a gig for Central TV.
Now 20 years later the band returned to the "Tiv" at the start of the UK leg of their European tour. And bizarrely it was almost as if time, and Tony Clarkin's hair loss, had stood still. Whilst I am smug that I saw the classic line-up in the early 1990s before they imploded, the fact is the current band has being going almost as long with bassist Al Barrow part of the Magnum-lite Hard Rain configuration and Harry James on drums joining them soon after.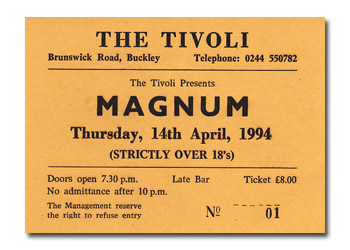 During the 1990s, GRTR!'s Managing Editor mercilessly stalked Magnum, but in a nice way (at least that's what he tells us).
 Almost 17 years to the day the band return to the Tivoli.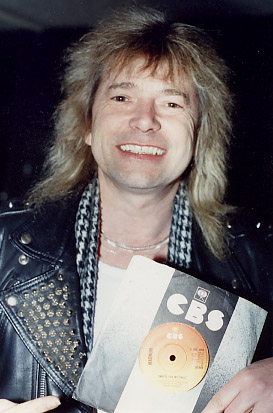 A fresh-faced Bob Catley in the Tiv; Randall forced him to hold a recently-acquired copy of the band's debut single. 
Hopefully 2012 will be a bit special for the band and they'll celebrate their 40th anniversary in style but for now there's a new album to promote, the generally well-received 'The Visitation'.
I'm not sure if my repeated Magnum gigs, two decades ago, were as much about the song 'Vigilante' as anything else. Here it is the lynchpin of a fine setlist and still stands proud as one of the finest heavy rock wig-outs…ever.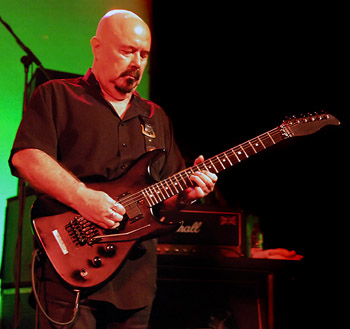 But Vigilante's ascendancy should not obscure a fair number of more recent tracks tonight showing that the band – and Tony Clarkin in particular – has never lost a way with a good melody and infectious riff. From "Into the Valley of the Moon King' we got 'All My Bridges' and 'The Moon King'. And 'Brand New Morning' from the band's 2004 album of that name was simply superb.
Going back to the sense of history theme, I probably like Magnum for all the wrong reasons; well at least different ones than the Storyteller's Night-shirted hardcore.
So I actually like albums like 'Goodnight LA' when they flirted with American AOR sheen and its successor the excellent 'Sleepwalking' which included the wonderful 'Stormy Weather'. Sadly, although perhaps unsurprisingly, both these albums were missed out tonight along with the excellent 'Rock Art' (1994).  In truth, a few curveballs in this direction wouldn't have gone amiss.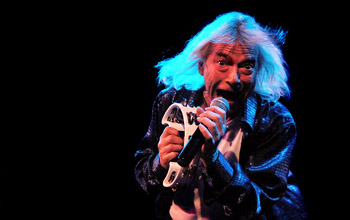 And then there's Bob Catley, as ever the genial frontman whose voice is in fine fettle and whose gesticulations provide a visual foil to Clarkin's lyrics which frequently touch on injustice or war. "'Freedom Day' from the new album was particularly impressive tonight.
With a final salvo of 'Kingdom of Madness' and 'Storyteller's Night' (both highlighting Mark Stanway's consistently excellent keys), Magnum are sounding more majestic, and magnificent, than ever.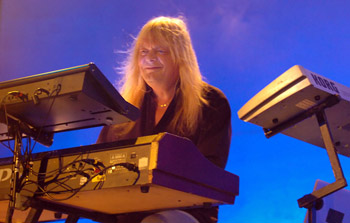 Setlist: Back to Earth/ When We Were Younger/ Wild Angels/ Brand New Morning/ Mother Nature's Final Dance/ How Far Jerusalem/ Spin Like a Wheel/ The Moonking/ Freedom Day/ Les Morts Dansant/ Black Skies/ All My Bridges/ All England's Eyes/ Vigilante/ Kingdom Of Madness/ Encore: Midnight Kings/  On A Storyteller's Night
Review by David Randall
Photos by Steve Goudie
Gig review: MAGNUM – Aberdare Coliseum, 5 June 2019
With more venues in South Wales falling by the wayside, it is refreshing to see someone taking  a gamble, especially in the valleys and in the middle of the week, but the old adage of book them and they will come rang true tonight, with a very nearly sold out crowd.
A small tour in preparation for the festival season sees Magnum back in South Wales supported by local(ish) rockers Hand Of Dimes, which in hindsight was a a great idea by the promoters Orchard Live.
For a venue as grandiose as the Coliseum, I could think of no other band to do it justice tonight other than Magnum. Having not seen them in around two years, it was time to renew my aquaintance with one of my go-to bands growing up.
A small intro welcomes  the band onstage before breaking into 'Wild Swan', instantly the crowd ignore the all seated rule and make their way to the front.  Bob Catley bouncing at the front of the stage getting the crowd up doing the same, his stagecraft defies his age.
This was followed by a selection of the later material in 'Sacred Blood' and current favourites 'Lost On The Road To Eternity', 'Crazy Old Mothers' and 'Your Dreams Won't Die' which are fast becoming classic Magnum in their own right.
Tony Clarkin, songwriter extraordinaire behind sunglasses and motionless in any facial expressions of enjoyment, content to leave the flamboyance to Bob.
This was my first time seeing Magnum with their latest members Rick Benton and Lee Morris on keys and drums respectively.  I couldn't be more impressed with the performance they delivered, the band seems refreshed and better than I have seen them in years.  Bob's voice is in fine fettle and reaffirms that there is only one guy who could and should sing these songs.
With 8 of the 13 strong set being pulled from the 'classic' era, I don't need to tell you that the biggest cheers were for the likes of 'How Far Jerusalem', with Bob and Al Barrow bouncing through the chorus egging on the crowd to follow suit, through the imagery and storytelling of 'Les Morts Dansant'.
'All Englands Eyes' and 'Vigilante' would be more than worthy set closers , but instead they just set us up for a full ten minute version of 'Don't Wake The Lion' before the band leave for a well earned encore call of 'The Spirit' and 'Sacred Hour'.
A truly mag(num)ificent evening accompanied with a great sound and lighting, Magnum rolled back the years proving that there is a lot of life left in these Crazy Old Mothers.
Review and photos by Darren Griffiths
---
Introduction
The Studio Albums
The Live Albums
Singles
Reissues
Collections
Memorabilia
What Magnum Means To Me…

---
Josh Taerk's latest Sunday Session was streamed on Sunday 17 July.
Check out previous videos here:
https://www.facebook.com/getreadytorockradio
---
David Randall presents a weekly show on Get Ready to ROCK! Radio, Sundays at 22:00 GMT, repeated on Mondays and Fridays), when he invites listeners to 'Assume The Position'. This show was first broadcast on 31 July 2022.
UK Blues Broadcaster of the Year (2020 and 2021 Finalist) Pete Feenstra presents his weekly Rock & Blues Show on Tuesday at 19:00 GMT as part of a five hour blues rock marathon "Tuesday is Bluesday at GRTR!". The show is repeated on Wednesdays at 22:00, Fridays at 20:00). This show was first broadcast 2 August 2022.
How to Listen Live?
Click the programming image at the top of the page (top right of page if using desktop)
Listen via Windows Media Player. Click or tap here and "open file"
Listen via other media player (eg. VLC) Click or tap here and "open file"
Get Ready to ROCK! Radio is also in iTunes under Internet Radio/Classic Rock
Listen in via the Tunein app and search for "Get Ready to ROCK!" and save as favourite.
More information and links at our radio website where you can listen again to shows via the presenter pages: getreadytorockradio.com

---
Power Plays w/c 8 August 2022 (Mon-Fri)
BORN LOST Take Time (Mouthpiece) (Revolver Records)
JAIME KYLE Driving With The Brakes On (Conquest Music)
SCARLET DORN Born To Suffer (SPV Recordings)
HOLDING ABSENCE Coffin (Sharptone Records)
TYRANNOSAURUS NEBULOUS Get Some (Echoed Past Records)
KROOKED TONGUE When The Beaches Bleed (indie)
SKYPILOT Knifed On The Beach (The Distortion Project)
Featured Albums w/c 8 August (Mon-Fri)
09:00-12:00 LESSMAN VOSS Rock Is Our Religion (Atomic Fire Records)
12:00-13:00 H.E.A.T. Force Majeure (earMUSIC)
14:00-16:00 THE SLAMBOVIAN CIRCUS OF DREAMS A Very Unusual Head (indie)
---
Tweets by Get Ready to ROCK!
---
Popular (last 30 days)
---

PDF - you can delete unwanted sections